Rugby World Cup 2011: Fiji playing for pride against Wales says Deacon Manu
Last updated on .From the section Rugby Union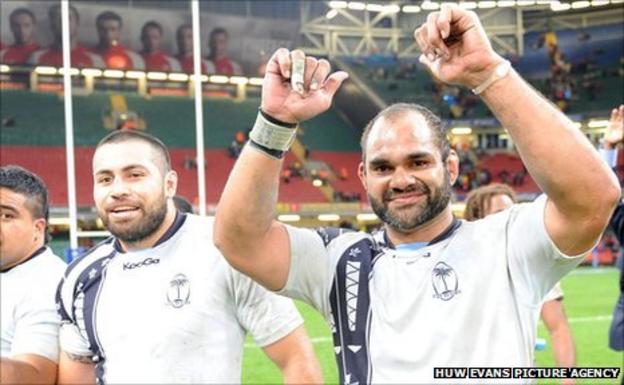 Fiji's players remain motivated for their Rugby World Cup clash against Wales on Sunday, according to captain Deacon Manu.
The Pacific Islander's hopes of progressing beyond the pool are incredibly slim, but Manu said: "In the end, you are still representing Fiji.
"You get to represent your family, yourself and your country.
"There is no issue with motivation. There'll be some new players, and they will bring some energy into the squad."
Fiji have managed to score only 10 points in successive defeats against South Africa and Samoa, after opening the tournament with a 49-25 win over Namibia.
But they do have a good track record against Wales - eliminating them from the World Cup in 2007, and drawing more recently at the Millennium Stadium.
Scarlets prop Manu added: "We love playing Wales, they won't take us lightly, so we've got to be prepared for a challenge and make sure we finish on a high.
"For some of our players, it will be their first World Cup start, which is a pretty special occasion. They will bring a lot of energy, enthusiasm and determination."
Fiji were finally eliminated by eventual champions South Africa in France at the quarter-final stage, but have not built on their previous performances this time around.
To reach the last eight, they need Samoa to lose to the Springboks without gaining a bonus point on Friday and then to beat Wales by 62 points.
"We set high standards for ourselves, especially after the last World Cup, so we wanted to emulate that. But we haven't been able to do it," said New Zealand-born Manu.
"We just want to have fun. In the preparation, we've really tried to enjoy ourselves off the field
"We haven't been enjoying the journey too much over the past three weeks, so we have been trying to get our minds off rugby."