Auld enemies recall previous World Cup meeting
By Andy Burke
BBC Scotland Sport
Last updated on .From the section Rugby Union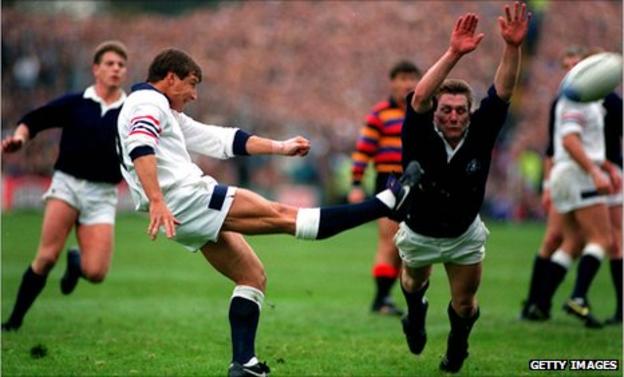 On Saturday, Scotland face England for just the second time in a Rugby World Cup, with both countries' hopes of progress resting on the outcome.
But in the only previous World Cup meeting between the sides, an even greater prize was at stake - a place in the final itself.
The semi-final at Murrayfield in 1991 will hardly rank as one of the tournament's classic matches, England prevailing 9-6 in a tight, forward-dominated contest.
Yet, 20 years on, people still talk about the key moments of that match - namely the late Rob Andrew drop-goal that sealed England's passage to a Twickenham final against Australia, and Gavin Hastings's horror moment when he missed the simplest of penalties with the scores locked at 6-6.
Former centres Jeremy Guscott (JG) of England and Sean Lineen(SL) of Scotland lined up in the opposing midfields that day in 1991.
BBC pundit Guscott and Glasgow head coach Lineen recall the factors that won and lost the day 20 years ago.
THE BUILD-UP
Scotland had defeated England at Murrayfield in the previous year's Five Nations to win the Grand Slam, but it was Guscott's side who went into the World Cup as 1991 Grand Slam champions.
JG: "There was talk of what happened the previous year in 1990 - the game was at Murrayfield again, David Sole was still captain and a lot of the players were still playing, plus Scotland had done very well to get to the semi-final, as had we.
"In some ways, it would have been billed as a grudge match - the return - and Scotland really fancied their chances. But England had changed in terms of the way we played after that 1990 encounter."
SL: "Coming into the England game, there was huge expectation, particularly after our Grand Slam the previous year. And I think we felt it.
"Scotland loved being the underdogs, but after winning in 1990, in 1991 there was a lot more expectation, a lot more pressure on us."
THE TEAMS
Most players on both sides had recent experience of Grand Slam glory and were no strangers to their opponents.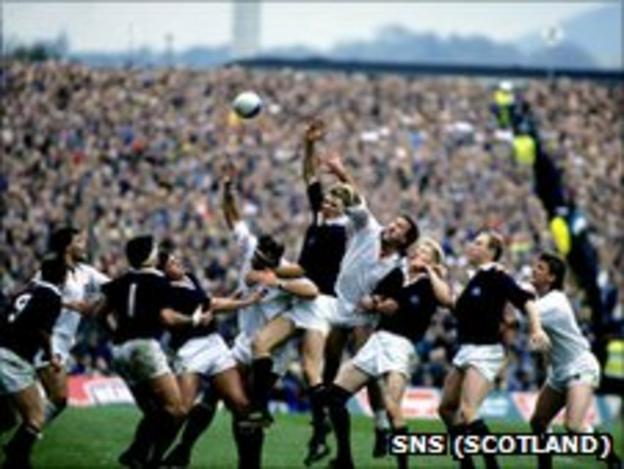 JG: "We were very evenly matched, with tough competitors on both sides.
"A lot of the guys had been on tour together with the [British & Irish] Lions a couple of years before, and that had been my first experience of players like the Hastings brothers [Gavin and Scott], Craig Chalmers, Gary Armstrong, John Jeffrey, Finlay Calder and Doddie Weir, while I knew David Sole from playing at Bath."
SL: "We knew each other's game pretty well. The English back line then was pretty special - they were certainly superior to us individually in a number of positions.
"They kept it very tight, which was good for us in some ways. Our defence was very strong."
THE MATCH
Invention and flair were in short supply in a tight, nervous affair dominated by the packs.
No tries were scored by either side, with two Gavin Hastings penalties giving Scotland the edge before two from England's full-back Jon Webb cancelled out the lead. Fly-half Rob Andrew then slotted the winning drop-goal late in the second half.
JG: "After losing the Grand Slam match the year before, our forwards decided that the backs would get the ball only when they decided we would get it."
SL: "I think the scoreline, 9-6, shows it was a very tight game. Both teams played it very tight - there was no ambition really at all, such was the pressure. But it was a great occasion."
HASTINGS' PENALTY MISS
Hastings, Scotland full-back and arguably their outstanding player, was presented with a simple shot at goal from in front of the posts with the scores level at 6-6.
Unbelievably, the normally reliable Hastings skewed his kick wide and Andrew's drop-goal at the other end broke Scottish hearts.
JG: "I was standing underneath the posts, and I was talking about what we were going to do next. I was just in disbelief [when Hastings missed]. I turned to Rory [Underwood] and said: 'I think we're going to win this.'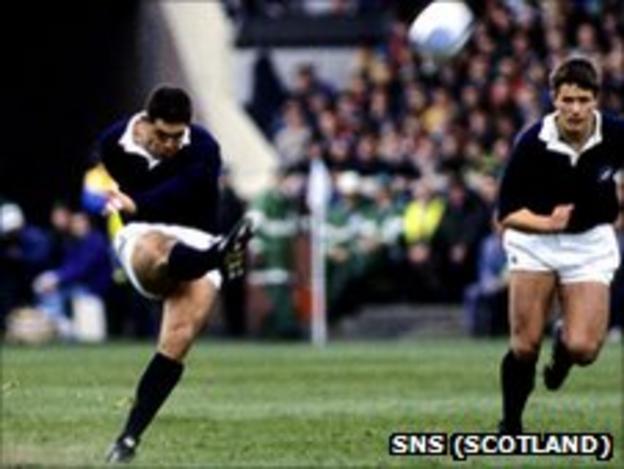 "That's something Gavin has had to live with for the rest of his career, and he has done so very well. It's a moment, a time, and a place - sometimes it goes your way, sometimes it doesn't.
"Unfortunately for Gavin, and luckily for us, it went our way."
SL: "Gavin won us games so often, and what a player he was. That wasn't the reason we lost at all. It was more to do with the occasion.
"It was always going to be decided by one or two small moments. It's such small margins at this level."
THE VERDICT
JG: "It's the kick that Gavin missed that separated the two teams. We'll never know what would have happened if Gavin had kicked it; we know what happened because of his miss."
SL: "They managed to score that drop-goal at the end. I think they squeezed the life out of us. I also think we don't like being favourites.
"We could have won but I wouldn't say we should have won."