Rugby World Cup 2011: Richie Gray column
Last updated on .From the section Rugby Union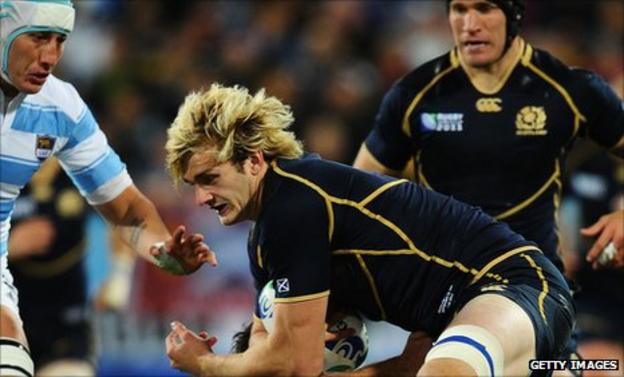 The game against Argentina was the biggest game of my career so far, but one week later that match is history - and now the challenge is England.
We need to win if we are to qualify for the quarter-finals of the World Cup.
I was nervous before the match against the Pumas although I still went through my normal pre-match routine.
I had a shower, then listened to my music. Don't ask me what it was - I can't actually remember - but music puts me in the right frame of mind.
When I got to the stadium, I did my strapping. The stadium was rocking that night and the Scottish support was fantastic. I was confident going into the game and couldn't wait to get out on the pitch.
The conditions were cold but it really didn't matter. I just wanted kick-off to come.
The match started perfectly. We'd done a lot of work on our set-piece and I felt we imposed ourselves on the scrum. We'd also done our homework on the lineout and I was pleased with how that went.
The Argentine defence did really well to contain us - they tackle really low, and they caused us problems at the breakdown.
I can't believe we lost. We went six points clear and I thought we were in control. Even after we had conceded the try, I felt we still had it in us to win. It was heartbreaking that Dan Parks' drop-goal didn't go over. The team was devastated.
In the dressing room after the game, there were five or 10 minutes when nobody spoke. But we rallied pretty quickly. Andy Robinson told us to reflect on the loss overnight - then get ready for England.
We're an honest bunch of guys. If we make mistakes, we'll hold our hands up. We have the faith we'll correct it on Saturday.
The press conferences have been interesting this week. I sat at the head table on Wednesday and felt quite important. There's been a lot of interest in the game and I can tell I'm in the middle of something special.
We know how tough it will be. England are a great side and hard to break down, but we'll take confidence from the match against them at Twickenham earlier this year when we ran them close.
We have a set game plan for the match but we'll also try a few tweaks to unsettle England.
It means a great deal to me to be able to play in this game. I would love to have played the full game against Argentina but I had a slight injury and needed to come off. I can't wait to take the field at Eden Park for this one.
We have every confidence that we can pull off a famous Scottish victory.
Scotland lock Richie Gray will be writing regularly for the BBC website during the Rugby World Cup campaign. He was talking to BBC Scotland's Jim Mason in Wellington.