Martin Johnson takes 'ballgate' blame before Scots game
Last updated on .From the section Rugby Union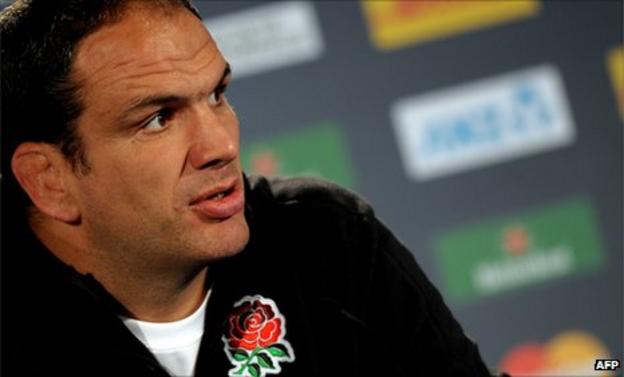 England manager Martin Johnson says ultimate responsibility for the so-called "ballgate" controversy at the Rugby World Cup rests with him.
Kicking coach Dave Alred and fitness specialist Paul Stridgeon are banned from the Scotland match after swapping the ball used by Jonny Wilkinson during England's 67-3 win over Romania.
Rules state kickers should use the same ball that was previously in play.
"I am responsible for everything that happens here," Johnson said.
The Rugby Football Union (RFU) suspensions avoided the need for a Rugby World Cup Limited (RWCL) misconduct investigation against England, and spared Wilkinson and Johnson from having to answer questions about the affair on the eve of Saturday's crucial Pool B decider against Scotland.
Johnson said: "I'm an employee of the RFU. Paul and David did what they did in the heat and confusion of a Test match.
"I don't suspend guys lightly. We regret what we did and it was wrong. They have made a mistake and paid for it.
"We should have asked the referee [to switch the ball]. We didn't. They asked us to stop. We did.
"Paul is gutted by this, upset by it, as is Dave.
"But if you are derailed by things like this you're not going to give yourself any chance.
"It's a bump in the road. We got it wrong, we've put our hands up and we'll move on."
The ball incident is the latest setback in an eventful tournament for England.
They were reprimanded after their shirt numbers peeled off during the opening game against Argentina.
Off the field, Johnson has faced criticism for allowing recreational bungee-jumping as well as for his players' conduct on a high-spirited night out in a Queenstown bar that resulted in Mike Tindall being at the centre of a media circus.
But Johnson and his squad know that all of these problems can be brushed aside by beating Scotland and booking a quarter-final against France.
England can still qualify if they earn a losing bonus point for a reversal by seven points or less, or by scoring four tries or more.
But that is not even on Johnson's agenda.
"We want to win the Test match as we always do," he said. "We're in a huge game. They'll be full of their usual Scottish passion for beating us and we'll be full of our usual English passion for beating them.
"The last pool game was always going to have a huge amount riding on it."