Rugby World Cup 2011: Sam Warburton reveals Wales drink ban
Last updated on .From the section Rugby Union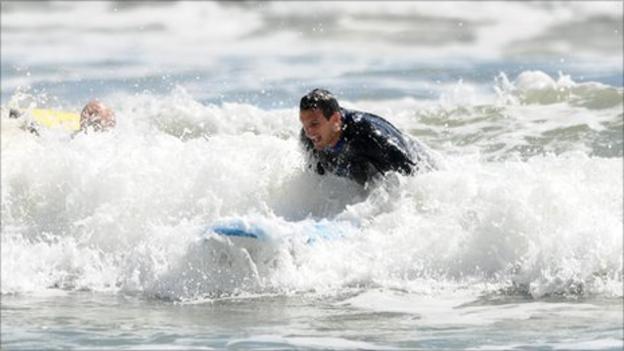 Captain Sam Warburton has revealed Wales' march to the World Cup quarter-finals has been fuelled by a voluntary alcohol ban in the Welsh squad.
Wales will qualify for the knock-out stages in New Zealand if Fiji fail to beat Warren Gatland's men by 39 points in Sunday's final Pool D fixture.
Wales are expected to face Ireland on 8 October in the last eight but Warburton will not be raising a glass to that.
"I could count on one hand how many times I've had a drink here," he said.
"After a game, players will be allowed to have maybe a bottle or two, those who feel they need to, because for some people that helps them to relax.
"But there is no binge-drinking going on at all.
"Back a while ago, players would have gone out almost every game, but I think you have got to look at the bigger picture and realise there is no point in working so hard all summer just to drink in the pool stages.
"When the World Cup is over, then the players might have a well-earned drink after five months of pretty much being dry.
"During the summer, we had a dry board and a wet board in the team room.
"Everyone started off dry, and if you had a drink you moved yourself over to the wet board - it was an honesty call.
"There were incidents in the Six Nations a couple of years ago, but during this year's tournament we would be on the bus going back from a game and no-one would go into Cardiff.
"It would be back to the hotel, a couple of drinks if you wanted and then in bed by midnight. That has been the way forward this year.
"In Cardiff now, you are such easy targets if you go out as a squad, it's too easy for negative things to happen.
"We have a fines committee here for things like any drinking when people shouldn't, putting things on social network sites they shouldn't, or even wearing the wrong colour socks."
When Wales took part in two punishing summer training camps in Poland, both trips were dry.
Warburton, the youngest captain in Rugby World Cup history who will celebrate his 23rd birthday on Wednesday, will lead Wales into Sunday's Pool D clash against Fiji with the prize of a first quarter-final place since 2003.