Rugby World Cup 2011: Andy Robinson hails defeated Scots
Last updated on .From the section Rugby Union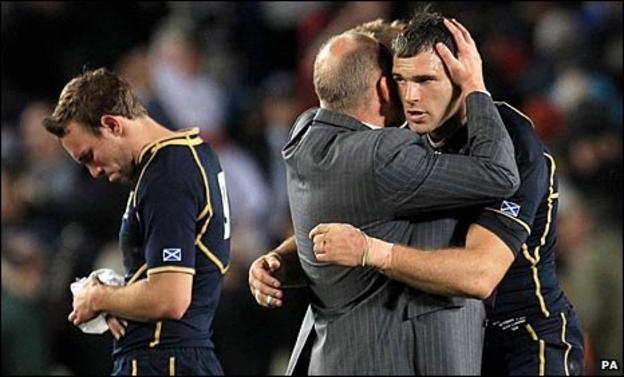 Andy Robinson praised his team for their efforts despite a 16-12 defeat by England leaving Scotland on the brink of a World Cup exit.
The Scots' hopes now depend on outsiders Georgia, coached by Scotsman Richie Dixon, defeating Argentina and denying the Pumas a bonus point.
"I've got to give every credit to the side," said head coach Robinson. "They've given everything.
"We're going to be supporting Georgia. We hope they can do a job for us."
Scotland, who were beaten by a late score from Argentina last weekend, had been leading for the whole Pool B match in Auckland until Chris Ashton's try with three minutes remaining.
"We're hugely disappointed to lose the game, as we were last week," said Robinson.
"I think the big thing is that sport is won and lost by inches.
"In both cases, where it's come to winning games, we've lost out.
"But you can't fault England. They've held it together under pressure and seen themselves through."
Robinson spoke with pride about his team, despite the fact that they are likely to become the first Scottish side not to reach at least the World Cup quarter-finals.
"There's a great spirit among the boys," said the former England coach and player.
"The way they have carried themselves throughout the World Cup, the friends they've made - I think they've been an outstanding group of people and I've been delighted to be their head coach."
Scotland centre Nick De Luca failed to pick up five yards from the England line with his side leading 9-3 as their try-scoring problems came back to haunt them.
Captain Alastair Kellock bemoaned another day when the Scots failed to cash in on their opportunities.
"The difference was Argentina and England maybe had one or two chances and were very clinical when they had those chances," said the lock.
"We created opportunities to score tries, but we didn't take them. We should have kept building the pressure.
"We were making them do things they didn't want to do. But, when they got the chance, they took it very well.
"There's never a doubt about our commitment. To a man, we left ourselves out there."