Rugby World Cup 2011: O'Driscoll praises Irish patience
Last updated on .From the section Rugby Union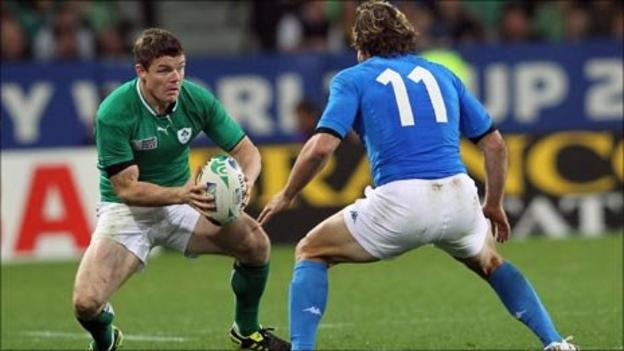 Brian O'Driscoll has praised the patience shown by Ireland during the 36-6 win over Italy which secured a World Cup quarter-final against Wales.
"We knew we were going to have to be patient as you have to grind your opponents down and go through the phases," said the Ireland captain.
"We took our scores clinically and are delighted with the win. We knew we needed it and I'm glad we were able to deliver that in the second half.
"The crowd played their part too."
"That was probably the best crowd we have played in front of so far and we owe them a huge debt of gratitude.
"It was just like playing at Lansdowne Road. In fact I've played in Dublin in the past when the support hasn't been that good.
"That says it all for the travelling Irish support and the expats who live in this part of the world.
"There are also the Kiwis who have jumped on board supporting us as well."
O'Driscoll added that Saturday's clash against Wales would be "another great challenge".
"It's been very close in recent years and it'll be the team that turns up on the day that goes into the semi-finals."
Ireland coach Declan Kidney was happy after watching his side top Pool C thanks to the victory in Dunedin.
"This was an all or nothing game for us - we just wanted to get out of the pool," said Kidney.
"The first half was nip-and-tuck, as it always is in matches between Ireland and Italy, but the tries early in the second half gave us a bit of daylight.
"It was a case of taking the breaks when they came and now we're looking forward to the challenge of facing Wales.
"It will be like a Six Nations game because the players know each other so well, space will be cut down," he said.
"It will be like a cup final. That's what this competition is all about. Today was a cup final and thankfully we've qualified for another one."
Man of the match Sean O'Brien insisted that there is "more to come" from the Irish side in the tournament.
"We want to do bigger and better things than this," added the Carlow man.
"Obviously it's good, but we still want more and Wales is next on the list. Hopefully we can take it up a notch."
Italy coach Nick Mallett, who is stepping down from the job after four years in charge, said that the Irish are capable of reaching the final in New Zealand.
"No team can be confident playing against Ireland at the moment and say 'we've got a genuine chance of beating them'. Where is their weakness?" added Mallett.
"Ireland didn't come into his World Cup as big favourites because they lost four games (in the build-up).
"But they targeted Australia and ourselves as key games. Once they get into the quarters and semis, they've got a team that can knock over anyone on that side of the draw."