Rugby World Cup 2011: Chris Paterson not eyeing retirement
Last updated on .From the section Rugby Union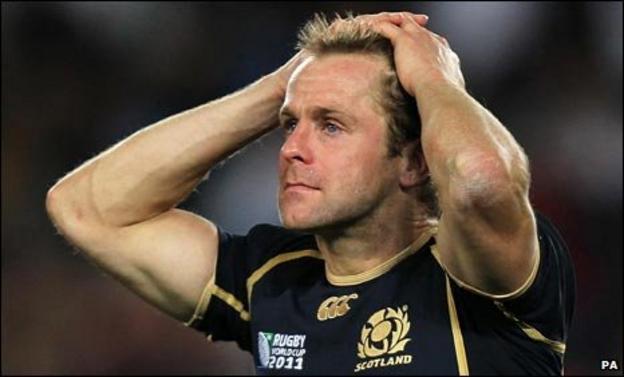 Chris Paterson hopes the agonising World Cup Pool B defeat by England will not be his last appearance in a Scotland jersey.
The Scots look likely to fail to qualify for the quarter-finals.
"I realise I'm no spring chicken and the question will be asked, but it's not that long until the Six Nations," said 33-year-old full-back Paterson.
"If I can continue to play well - and my performance will determine that - then hopefully I'll be considered."
Paterson won his 109th cap at Eden Park in Auckland as Chris Ashton's late try earned England a 16-12 win that is likely to see Scotland exit the tournament before the quarter-finals for the first time.
Speaking after his 15th World Cup appearance in his fourth tournament, Paterson expressed hope that he will continue to be in the selection mix come the Six Nations tournament in the new year.
"I feel as if I performed well," he said. "I felt sharp.
"I still hope I've got a lot to offer and I take comfort in that.
"I've always said the last thing I want to do is out-stay my welcome, maybe devalue what I've achieved."
Scotland's failure to take advantage of a lead over England was a familiar tale, with the inability to score tries a recurring issue.
"The lack of tries is disappointing," said Paterson. "It just seems to haunt us a wee bit at the moment.
"No matter who we play or what we do, we struggle to cross that line."
Scotland's fate in the tournament will be confirmed by events at Palmerston North on Sunday, when Argentina take on Georgia.
If Georgia can win and deny the Pumas a losing bonus point, Scotland will advance.
Paterson, though, expects to be returning to Edinburgh.
"We're still in by our fingernails, but it looks like we're going home, which is an absolute disaster," he added.
"There's a huge disappointment. It wasn't quite enough."