Rugby World Cup 2011: We have to improve, admit England
By Tom Fordyce
Chief sports writer in Auckland
Last updated on .From the section Rugby Union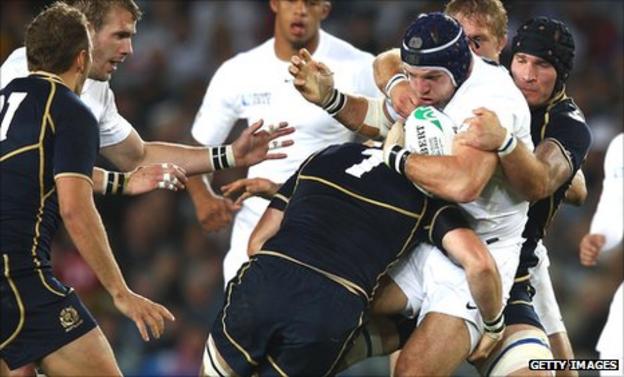 England's under-fire players admit they will have to improve if they are to beat France in next weekend's crunch World Cup quarter-final.
France sensationally lost to Tonga on Saturday in the biggest shock of the tournament to date and were thrashed by the All Blacks a week ago, while coach Marc Lievremont will lose his job after the World Cup.
But England were poor themselves in a narrow, nervous 16-12 win over Scotland and their off-field problems continue to mount.
Three of their players - James Haskell, Dylan Hartley and Chris Ashton - have been reprimanded and made to formally apologise over comments made to a female member of staff at a hotel.
And winger Delon Armitage has been cited for a high tackle on Scotland full-back Chris Paterson during the edgy win on Saturday.
Former Stade Francais back-row forward Haskell said: "We'll have to play a lot tighter because France are so dangerous if you allow them to play in the open field.
"You always have to respect the French. Individually they have great talent, and having played in France for two years I know that if they get the mental side right they can turn up and beat anyone in the world.
"They might have lost to Tonga, but you never know which team is going to turn up.
"They're waiting for a big performance, and they're always enormously prickly during a World Cup. It'll be a big challenge for us."
England have beaten France in the semi-finals of the last two World Cups, and came out on top in a brutal, bruising quarter-final encounter at Parc des Princes in 1991.
They also emerged victorious from the last meeting between the two sides, at Twickenham in this year's Six Nations, a campaign which ended with Lievremont accusing his players of "betraying the French shirt".
But England winger Ashton is refusing to accept that his team will start as favourites at Auckland's Eden Park on Saturday.
He said: "The worst time to play France is when they're on the back foot.
"They're always out to prove a point, and don't want to go home upset about how they played. You could see that the way they played against New Zealand in the last World Cup."
Ashton's late try won Saturday's Pool B battle after long periods in which a fired-up Scotland had threatened to put England out of the competition.
"Johnno [team manager Martin Johnson] said after the game that this was how it was going to go," he said.
"A win's a win - it doesn't matter how it's done. No-one remembers how you win, as long as you win."
Scrum-half Ben Youngs admitted there was much room for improvement.
"In the first half we never really got our hands on the ball, and we struggled a little to get any momentum," he said.
"Any time we did get the ball it was in the wrong areas, so we had to kick it long, or we were getting turned over every second phase.
"A few times I got scragged at the breakdown, or went to pass the ball and had it kicked out of my hands. It was frustrating, and we have to make sure we don't give the ball away cheaply.
"Traditionally we've had some very close games against France, and we respect them very much.
"We love the way they play - I think they play the game the way it should be played, with flair and ambition.
"They will come back from that Tongan defeat a better team. It's a big week for them, and it's a big week for us."