Rugby World Cup 2011: Injured Dan Carter backs All Blacks
Last updated on .From the section Rugby Union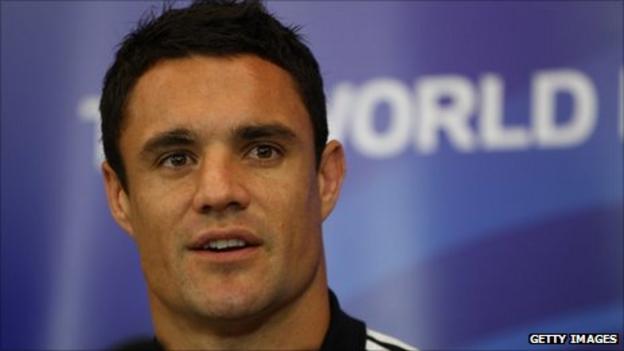 New Zealand fly-half Dan Carter has said the All Blacks have the quality to overcome his absence through injury.
The 29-year-old was ruled out of the tournament on Saturday with a groin injury suffered in training.
Hosts New Zealand went on to thrash Canada 79-15 - with replacement Colin Slade kicking 11 points - and next face Argentina in the quarter-finals.
Carter said: "If we lose any player we've got such a good squad that players come in and fill their roles."
He added: "I encourage everyone to move on - I have. I'm disappointed but now I'm here to help the team."
Carter, who has amassed a world record 1,250 points during his 85-cap Test career, had been due to captain the All Blacks in their final Pool A fixture against Canada while regular skipper Richie McCaw rested a foot injury.
But the Crusaders fly-half tore a groin tendon in kicking practice and has been replaced in the squad by Manawatu back Aaron Cruden.
Carter added: "The team are pretty focused. If we lose any player we've got enough depth [in the squad].
"We're in the play-off stages; we've effectively got a final this week. Anything can happen. We just have to go out there and put everything on the line like there's no tomorrow.
Speaking about the training incident for the first time, he said: "I knew it was a pretty serious injury because of the pain.
"I thought it was quite unusual - it felt like it popped, hence going down to the ground in agony. I normally kick a good 15, 20 balls at captain's run, but I was only having four this time around.
"It was my fourth kick and I didn't know what happened.
"It's just really unfortunate.
But he insisted he would set his personal disappointment aside to give his team the best support he could.
"Lying in bed on Saturday night was pretty tough, looking back at one of the craziest days of my life - to be named All Black captain and then have that taken away from you.
"It's pretty gut-wrenching but I have to get over that and continue to think positively and try to help the guys in whatever way I can."