Andy Robinson's Scotland record makes for grim reading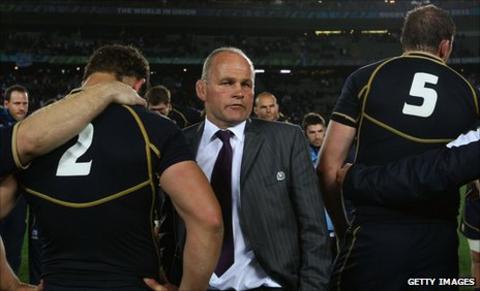 Scotland head coach Andy Robinson called it "30 seconds of madness" and it will be seen as the defining moment in a World Cup campaign which promised much but ended in failure.
With eight minutes remaining in their third pool match against Argentina in Wellington, Scotland seemed in control - leading the Pumas 12-6. Then a pass released Lucas Gonzales Amorosino on the right wing, he evaded three tackles to touch down in the corner. Felipe Contepomi added the conversion and Scotland had lost.
It was a blow which struck at the heart of Scottish confidence. Earlier in the tournament wins against Romania and Georgia had put Scotland in contention for a quarter-final place.
Those victories in Invercargill were, however, far from convincing.
Romania were leading with about 10 minutes remaining until two late tries saved Scotland's blushes - while the win against Georgia in the pouring rain was workmanlike and lacking in a real cutting edge.
Arriving in Auckland for the final match the equation for the Scots was simple: beat England by more than seven points.
The last time this had happened in a match with the English was in 1986. While Robinson is no respecter of history, even he must have baulked at the magnitude of the task that lay ahead.
It was a magnificent spectacle for those lucky enough to be at Eden Park that night; two teams entirely committed to the task of winning.
The intensity of tackling and set-piece was breathtaking but for the Scots the way the game unfolded had an uneasy familiarity. Scotland led 12-3 at one point in the match, enough to put them in a position to qualify.
Chris Ashton was the man who brought Scotland's World Cup hopes crashing down: same wing, roughly same time in the game, same result - the parallels with the game against Argentina weren't hard to fathom.
On Sunday, any lingering hope that Scotland would qualify was shattered when Georgia lost to Argentina. This was to be the first time that Scotland would leave the competition before the quarter-final stage.
At the final Scotland press conference of the tournament Andy Robinson's emotions were all too evident: "Oh there's frustration," he said.
"There's frustration for the Scottish supporters and anyone involved in Scottish rugby.
"The players put themselves into winning positions and were unable to see it out.
"Winning and losing is about small margins; it's about the inches. It's a hard lesson, sport can be cruel."
Now Robinson and his management team must leave New Zealand and begin preparations for their next tournament.
The 2012 Six Nations Championship will be an opportunity for Scotland to show improvement.
The omens are not good: Scotland's tournament record under Andy Robinson does not make for light reading: one win outside the World Cup this year; one win last year and now out of the 2011 Rugby World Cup.
Ironically, Scotland's first game in the 2012 Six Nations will be against England at Murrayfield.
One of the major criticisms of the team's performance has focussed on their inability to score tries.
Scotland did not register a touch down in the games between Georgia, Argentina or England.
Tries do not necessarily win matches but they do make it a hell of a lot easier.