Rugby World Cup 2011: England kids lack respect - Guscott
Last updated on .From the section Rugby Union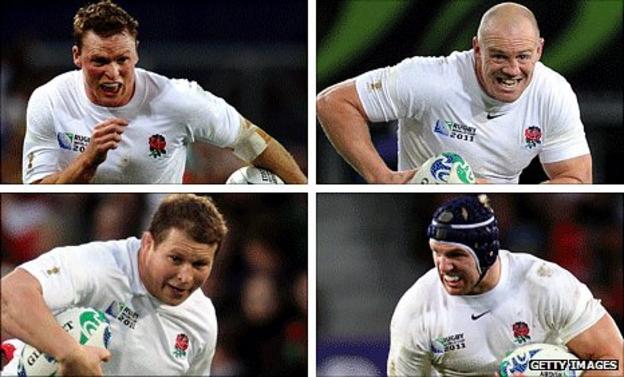 Jeremy Guscott has told BBC Sport that some England players have shown a "lack of respect" at the World Cup.
"[Manager] Martin Johnson's got a few kids that aren't acting as though they're playing for England, or at a World Cup," said the ex-England centre.
"It's beyond belief, it is staggering."
Tindall was the subject of tabloid headlines after being photographed enjoying a late night at a Queenstown bar, and the issue of how the squad spend their leisure time was brought up again at the weekend after further revelations.
It emerged that Johnson reprimanded three of his team - 26-year-old James Haskell, Chris Ashton, 24 and Dylan Hartley, 25 - for their treatment of a female member of hotel staff in the days before England moved from Dunedin to Queenstown.
And Johnson backed Tindall after his recollection of his movements on the night out in Queenstown proved to be incorrect.
The England manager has also defended his players after some were pictured drinking following the 13-9 win over Argentina, saying: "You have got to relieve the pressure and let off steam at the right time."
Guscott, who won 65 England caps, scoring 30 tries, and played in the same England side as Johnson, said: "The last thing Johnson wants is to be sat at a press conference having to fire fight questions from journalists."
The centre, who was part of the England side that lost in the 1991 World Cup final to Australia, added: "A few guys going out to let off some steam in Queenstown I can understand but you've got to say 'guys, you're under the microscope'.
"What was an eye opener was Wales captain Sam Warburton revealing the last time he had a drink was during the Six Nations.
"He made a conscious decision not to have another drop of alcohol because he wanted to be as best prepared as possible.
"I'm not saying everybody should do that but what is six weeks out of your life?
"You're representing your country, you've got the hopes and dreams of millions of rugby supporters back home and all they're hearing is stories of messing about and drinking. It's completely unacceptable.
"This is a Rugby World Cup. If you think you're living in a goldfish bowl wait until the 2015 Rugby World Cup [in England]. They'll be under a microscope then."
Former England captain and manager Roger Uttley said there had been "embarrassing indiscipline on and off the field for Martin Johnson".
He told the BBC: "I'm sure he's got a grip of these guys and laid down what responsibilities they have as individuals, and as a team who are representing England.
"Martin wants to get on to rugby and has dealt well with it pretty well, so far.
"There will be other senior members of the squad that will be dealing with those who stepped out of line. It affects everybody, they're all tarred with the same brush.
"As a former England player I'm embarrassed that we're seen in this light - an archetypal stereotype of a rugby player that used to be the case but no longer should be."
England wing Mark Cueto believes the incidents involving his team-mates have been "blown out of proportion".
"We're talking about two incidents in four or five weeks," Cueto said.
"Things have happened. We have learned from them. We have had to learn from them and we have improved our discipline off the field."