Rugby World Cup 2011: Bowe will put friendships on hold
Last updated on .From the section Rugby Union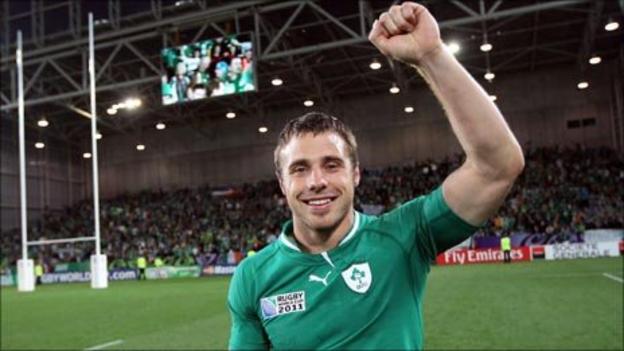 Ireland's Tommy Bowe will put his friendship with many of the Welsh players to one side when the teams meet in Saturday's World Cup quarter-final.
Three years at Welsh outfit Ospreys means winger Bowe is on good terms with many of his opponents.
"I always enjoy coming up against the Welsh fellas who I know well. It adds a bit of extra spice for me," said Bowe.
"They're friends at the end of the day, but when we get out on the pitch it will be a different story."
He added: "I went to the cinema this week and bumped into a few of the Ospreys players.
"That was the first time I've caught up with them and it was nice to have a chat, we had some friendly banter.
"For the guys who have toured with the Lions there's great camaraderie between the nations - it will be a great little battle."
The former Ulster player admits that the quarter-final showdown in Wellington will be the biggest match he has ever played in.
"It's still early in the week but we know what's at stake.
"The players' nerves are obviously heightened at this stage of the competition.
"This team is in as strong a position as we've ever had and we've got some world-class players.
"It's going to be difficult but this is a chance to create history for Ireland."
The Irish have never progressed beyond the last eight of the competition but won their pool with magnificent victories over Australia and Italy to set up a potentially thrilling contest with Six Nations rivals Wales.
"We've been very happy with the way the last four games have gone," said Bowe.
"We know how well Wales are playing, they're definitely one of the form teams at the World Cup.
"But there's a huge amount of self belief in our team - we have a great blend of youth and experience.
"In the past we've always been strong going into the World Cup but failed playing against some of the top teams. This time we've beaten Australia and Italy."