Henry Thomas ready for front-row fight at Sale Sharks
By Nathan Middleton
BBC Radio Manchester
Last updated on .From the section Rugby Union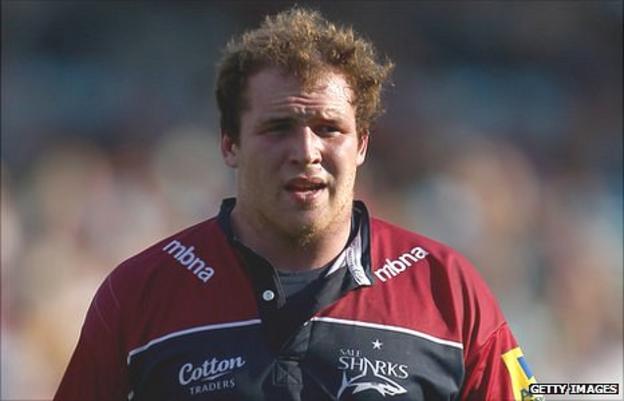 Sale prop Henry Thomas says he is prepared for the fight to keep his place in the Sharks front-row.
The 19-year-old has started four out of the first five games this season - with players away at the World Cup.
"I've got the opportunity to keep my place and it's about how I play in these first six games.
"I've got to keep getting stronger, fitter and improving to get a place on the bench or a place starting," he told BBC Radio Manchester.
Sale have a number of props to choose from this season with Vadim Cobilas, Aston Croall and Lee Imiolek currently all vying for a place.
Scotland international Alasdair Dickinson will return to the club this week, following his country's exit from the World Cup, whilst Ireland's Tony Buckley will make his debut once his country's campaign is over.
In addition, England international Andrew Sheridan should make a comeback from the injury he picked up at the tournament.
"Obviously with Vadim [Cobilas] here and Tony [Buckley] around, they're two world-class players," the tight-head prop added.
"No doubt they're playing for their countries so they're top, top players and so you've got to play as well, or better, to keep them out of the team.
"When Tony comes back I'll be trying to work with him and learn off him and hopefully he'll make me a better player as well. "
The England Under-20 international began last season as the captain of the Sharks' reserve side, Sale Jets, and made his first-team debut against London Irish in October.
He went onto make 14 league appearances last season which resulted in a new contract until the end of 2014.
With all the new arrivals in the front-row during the summer, Thomas was keen to get back to Carrington for pre-season to continue where he left off last season.
"I wanted to get back as soon as I could and with all the new guys coming in it felt like being at a new club," he stated.
"I had to make a new impression with the new coaches so I was in a big hurry to get back and cracking again.
"It's hard as a player to think long-term as you always want to play every week, that's why we're here.
"If you sit back and think I can sit on the bench for a few games and coming on learning from them, maybe that will be better for my career in the end."