Rugby World Cup 2011: News round-up
Last updated on .From the section Rugby Union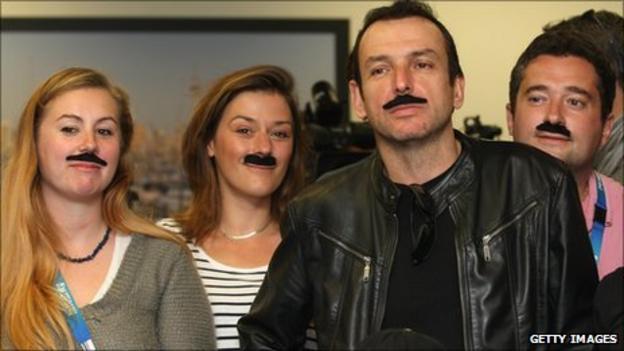 A round-up of the latest news, views and gossip from the Rugby World Cup in New Zealand.
O'Neill has also described as "nonsensical" the claim by IRB chief executive Mike Miller that New Zealand could be replaced at the next World Cup. The All Blacks have threatened to boycott the 2015 event, which will be held in England, over the financial model under which the World Cup operates, however, O'Neill stopped short of suggesting Australia would follow suit.
Ireland number eight Jamie Heaslip has been having fun with the media at a press conference ahead of their quarter-final against Wales. The Irish players have been trying to work several phrases, including "ding-dong battle", into their answers. And when asked how much the prize pool was now worth, Heaslip quipped: "It's a ding-dong battle."
The French press have also been in jocular mood in a cheeky show of solidarity with under-fire coach Marc Lievremont. Male and female reporters and photographers donned black moustaches in a nod to Lievremont's sprouting upper lip.
Remember Sonny Wool the psychic sheep, who picked New Zealand to beat Argentina in their quarter-final? Well his bovine counterpart, Richie McCow, a three-month-old "oracle" calf born with a silver fern-shaped marking on his forehead, has picked the Pumas to triumph. The smart money is obviously with Sonny - he's successfully predicted all four of the All Blacks previous victories whereas Richie got one wrong. McCow also reckons England, Ireland and Australia will reach the last four.
Australia goalkicking guru Braam van Straaten has conceded that the Wellington Regional Ground, that will stage the quarter-final between the Wallabies and South Africa on Sunday is "not the easiest" to kick in. The winds swirl around inside the stadium's circular shell and Van Straaten who has played in the stadium before has been giving tips to James O'Connor.