Rugby World Cup 2011: Defence the key, says Warburton
Last updated on .From the section Rugby Union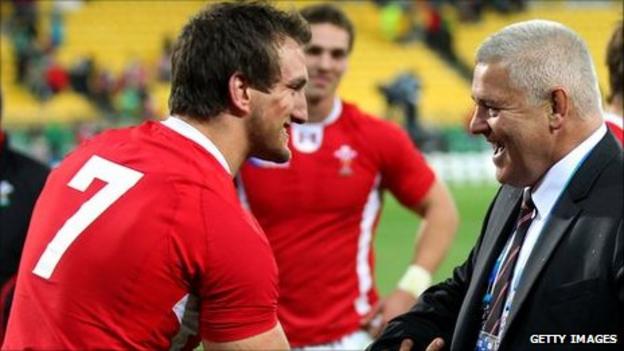 Sam Warburton hailed Wales' defence after they reached the World Cup semi-finals with a 22-10 win over Ireland.
Shane Williams, Mike Phillips and Jonathan Davies scored tries, Ireland's Keith Earls replying.
But captain Warburton says Wales' tackling earned the quarter-final triumph.
"It was a massive performance, we knew they had a lot of big ball carriers and there was a lot of tackling stopping them on the gain line," he said.
"They are dangerous, it was a fantastic defensive effort."
Coach Warren Gatland said: "The boys knew that we were either going home Monday or we were here until the end of the tournament
"That was the motivation beforehand.
"Wales should be very proud of these boys for how hard they worked the past four or five months.
"We're not ready to go home yet."
Wing Williams' third-minute try, his 56th for Wales in his 34th year, came after only three minutes.
Warburton added: "We always say we don't start good enough, and we started perfectly today and it was just what we wanted.
"It's easier to be ahead of the game than chasing it. It's a massive achievement and we have worked so hard."
Wales are now hoping to top the achievement of the side coached by Tony Gray and led by Richard Moriarty in 1987.
After they finished third at the inaugural tournament, the former Swansea captain predicted the achievement would "stand the test of time".
Wales have since failed to reach the last four and were knocked out at the Pool stages in 1991, 1995 and 2007.
But four years after Fiji halted their progress in France, Warburton, 23, and his team-mates are targeting Wales' first final appearance.
He said: "The team in 1987 did it [reached the last four] and got third place.
"But we have the semi next week, the boys are thrilled and it's a massive achievement, it's brilliant."
Outstanding scrum-half Phillips added: "It's an historic win, the boys have been outstanding in the lead up to this game.
"We have so much respect for the Irish boys and I feel sorry for them.
"They are great players and outstanding gentlemen, but we were superb."