Missing Argentina game pained Scotland captain Al Kellock
Last updated on .From the section Rugby Union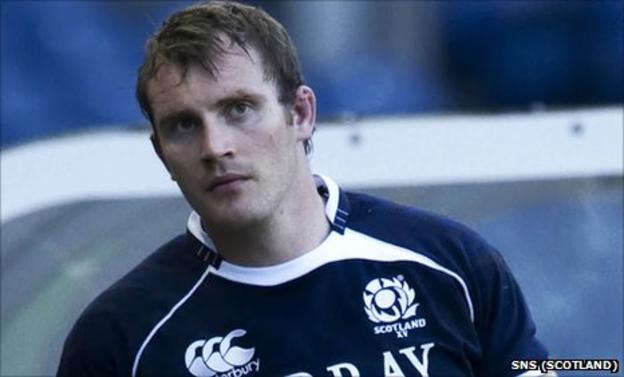 Scotland captain Al Kellock has expressed his disappointment at being dropped for the World Cup Pool B defeat by Argentina.
But the Glasgow Warriors lock feels that, despite Scotland missing out on the quarter-finals in New Zealand, improvements have been made.
"It was incredibly tough," said Kellock of being left out. "It happens.
"The toughest point was sitting watching the game. I wanted to be out there, to be able to do something."
Andy Robinson's side are now the first from Scotland not to reach at least the World Cup quarter-finals since the tournament's inception in 1987.
Narrow defeats by England and Argentina sealed their exit from the pool stages and, while he was dismayed with being left out, Kellock understood Robinson's reasons for shaking up the squad.
"The team wasn't announced until the Wednesday, which gave me a day or two to get my head around it," said Kellock.
"I told Andy my feelings about it and we didn't necessarily agree - but he was picking a team that he thinks was best to play Argentina. Once he had made his decision, it was about me moving on as quickly as possible and getting on with the job in hand.
"It's not personal pride - it's the ability to influence the match. There's nowhere worse to be for a professional sportsman than to be in the stand watching. I wanted to be on the park and have influence.
"I wanted to play. I felt ready, I felt good, but I understand why Andy did it.
"You've got to move on from these decisions quickly - a day, not a week or two weeks. You have a day to get your head around it and do what you're there to do."
Kellock also feels he may eventually be able to look back on the New Zealand experience in a positive light and acknowledged that Scotland need to convert more chances, although the depth of the squad should continue to improve performances.
"The over-riding feeling is disappointment, but we've got to take the positives from it," said Kellock.
"It was a privilege to be involved in the tournament. Rugby in New Zealand is unbelievable - the support we had everywhere we went was inspiring.
"When I give it a bit of time and step back, hopefully I'll be able to look back and say it was an enjoyable experience.
"The main positive from the World Cup and warm-up games was our squad depth.
"We showed we could change 14 players and still get the victory. Andy Robinson was able to pick from the entire 30.
"So, for me, that's something that's improving and we're moving forward with.
"We need to score more tries - the best teams in the world get their most dangerous players on the ball in the right players.
"We've made massive improvements on that, but I feel we can still improve it."