Rugby World Cup 2011: Wales through, England & Ireland out
Last updated on .From the section Rugby Union
France stunned England and Wales overpowered Ireland to become the first teams to reach the Rugby World Cup semi-finals.
France and Wales will now meet in the first semi-final on 15 October.
Wales coach Warren Gatland said: "I don't think any other team in the World Cup has worked as hard as we have."
Gatland has taken Wales into their first semi-final since the inaugural World Cup 24 years ago, and was pleased his side's mix of youth and experience paid dividends.
"This is the best balance we've ever had," Gatland added. "But we've worked hard to get there.
"These guys went through some pain, but when you do that, you galvanise as a team."
Wales captain Sam Warburton said. "It's a great feeling but we haven't won anything yet. We've got another two weeks yet.
"We've got the biggest game of our life next week so we have to keep our feet on the ground."
There were contrasting emotions for England after they were soundly beaten by the French, and questions are now being asked about the future of manager Martin Johnson.
But Johnson said: "I'm not getting into that conversation now. It's not the right place or the right people or the right time.
"We'll see. I'll give it a couple of days, assess myself and how we've been."
For the likes of Jonny Wilkinson, Simon Shaw, Mike Tindall and captain Lewis Moody, the defeat is likely to spell the end of their World Cup careers, but Johnson is confident England's future is bright heading towards hosting the 2015 tournament.
He commented: "I believe this team's best days are ahead of it. A lot of them are at their first World Cup and they're better for the experience.
"We left ourselves with far too much to do. It's brutal.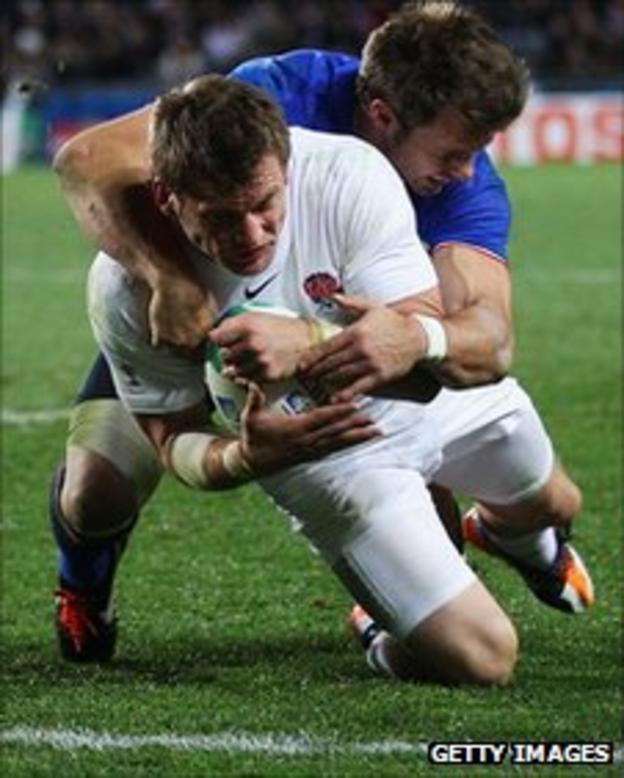 "France ultimately deserved to win."
Full-back Ben Foden - who scored his side's first try - was also bitterly disappointed with the way England played.
"I am gutted and livid," Foden said. "We had a massive opportunity and we blew it. We are just frustrated in our performance. We didn't step up to the mark.
"The French were there for the taking and we didn't step up. You don't mind losing to a better team or to a great performance, but the French weren't brilliant by any standards.
"They took their opportunities and we just didn't stack up.
"We have been waiting four or five months and to throw it away on that game is frustrating."
As for Ireland, a quarter-final defeat by Wales was not the World Cup swansong captain Brian O'Driscoll would have hoped for.
"You have to earn everything you get in Test rugby and today we were off the pace and we go home as a result of that," he said.
"That's the bitter disappointment of it, but you have to suck it up when you haven't performed on the big stage.
"It's very disappointing collectively, while personally I won't get this opportunity again. That really sucks, but life goes on."
Ireland coach Declan Kidney added: "When you give your heart and soul to something but it doesn't work out, the atmosphere in the dressing room is one of quietness. They're all good men who will bounce back."