Rugby Football Union not in meltdown - Martyn Thomas
Last updated on .From the section Rugby Union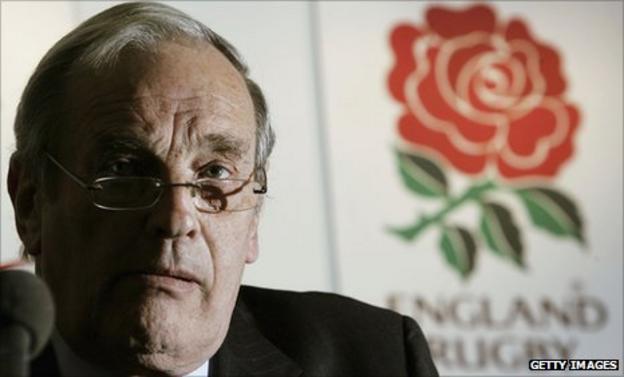 Acting chief executive Martyn Thomas has rejected suggestions that problems at the Rugby Football Union played a part in England's poor World Cup.
The English game's governing body is without a permanent chairman, chief executive or performance director.
But, following England's quarter-final defeat by France, Thomas said: "Twickenham as an organisation is not in meltdown as has been described.
"What we have failed to do is get it right with the senior side."
Thomas, who has already survived two votes of no confidence, is bracing himself for a third demand to resign from disgruntled club sides.
More than 100 clubs in England have backed the proposal by Leicestershire club Market Bosworth for Thomas, who was heavily criticised in the Blackett Report into the RFU's governance and for his behaviour in the appointing and sacking of chief executive John Steele in June, to face another resolution that the game has lost faith in him.
However, Thomas, who has thrown his weight behind England manager Martin Johnson, is determined to head off this latest revolt.
"I'm not in the business of turning my back on conflict," said Thomas. "I have never done it in my life and I'm not going to start doing it later in life so, no, I'll carry on.
"At the end of the day this whole issue has come as a result of hiring and firing one man.
"My heart has always been in doing what I think is in the best interest of England, whether it be getting us a World Cup or sorting out the deal with the Premiership clubs and supporting the England team.
"It's a matter for others to judge whether that's been what they want or whether they want someone else to do it."
And Thomas has been backed RFU president Willie Wildash and chairman Paul Murphy.
"To call an SGM on the basis of a report containing allegations made anonymously - and before the process has been completed to determine whether those allegations can be substantiated before anyone has been given the opportunity of defending themselves against any resulting charges - is surely not the way that rugby people should behave," said Wildash. "It directly conflicts with our concept of fair play and justice."
Murphy added in a statement: "It is obviously very disappointing that some Council members have seen fit to propose an SGM (special general meeting) with the sole purpose of removing Martyn Thomas from office.
"There can be no hiding away from the fact that those Council members have put a personal matter above the greater good of the RFU and failed to recognise their collective responsibility that Martyn has won two votes of no confidence by a sizeable margin."
Manager Johnson has also seen his future come under scrutiny following a disappointing World Cup campaign that was blighted by off-field problems, but Thomas has backed the England manager to continue in the role.
And Thomas also indicated he would have backed Johnson had he had decided to send players home for their behaviour, which included captain Mike Tindall making tabloid headlines for his conduct in a bar and three other players receiving a complaint from a female hotel worker.
"He definitely has my backing," said Thomas. "It's a matter for him to make that decision as to whether he wants to continue into 2015."
Johnson seems to have the backing of his players, with prop Andrew Sheridan vocal in his manager's defence, and a number of other senior stars tweeting their apologies to fans for the team's failings.
"Gutted about the result we weren't good enough on the day," said Richard Wigglesworth, while Ben Foden posted: "Just not good enough and for that I apologise to all the fans and supporters."