2011 Rugby World Cup: France coach Lievremont wary of Wales form
Last updated on .From the section Rugby Union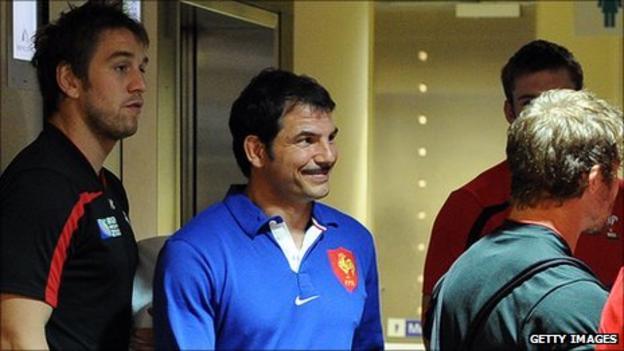 France coach Marc Lievremont believes Wales will be a greater challenge than England in their World Cup semi-final clash in Auckland on Saturday.
"I've seen all the Welsh games and they are in great form," he said.
"They play great rugby - more complete than England - and the way they controlled Ireland was impressive," Lievremont added.
The France coach, who has faced criticisms after indifferent performances from his side in New Zealand, added: "Essentially, they are playing the same type of rugby as three years ago when they won the Grand Slam.
"They have mobile forwards and their backs have a great understanding."
The French have insisted they will block out all distractions as they ready themselves for Saturday's World Cup semi-final against Wales at Eden Park.
Notorious for their unpredictability and erratic form, the French are determined to follow up the win over England with another big display.
"History has shown that, after a tough win where anger and pride were shown, there has been a failure afterwards," added Lievremont.
"I hope we manage to do it this time, though."
To do so, Lievremont believes it is vital they keep grounded and focused.
"The danger is to spend the week satisfying the media, the agents - the risk is to believe you've become a superb rugby player," he said following the win over England.
"But [against England] we were the same players as in Wellington [in the loss to Tonga], except we had grown some backbone."
Both the Wales and France squads found themselves sharing the same hotel in Auckland, giving Lievremont a chance to assess the Welsh camp at first hand.
"They seemed to be pretty refreshed. I thought they were in good shape. It's better to bump into them here than at the airport," he said.
For the latest updates and reaction to this story read Sportsday Live. Have your say on Twitter via the hashtag #bbcsportsday.