Rugby World Cup 2011: Top nations agree midweek matches
Last updated on .From the section Rugby Union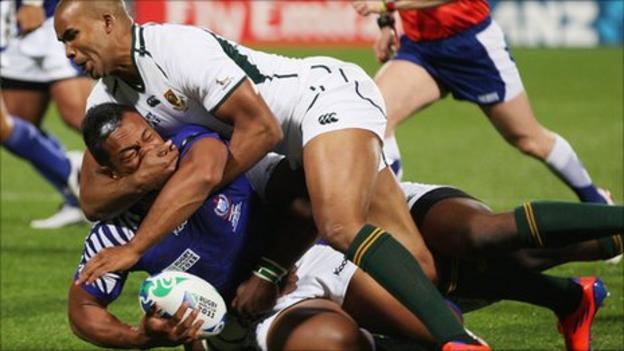 Leading nations have agreed to play midweek matches in the 2015 Rugby World Cup after complaints about the current tournament's schedule.
Chairmen of the Tier 1 nations said the move would provide a "better balance" for Tier 2 and Tier 3 unions.
Some so-called smaller countries have been faced with a four-day gap between games while traditionally stronger teams had a week's rest.
England will host the 2015 competition from 4 September to 17 October.
Tier 1 nations include the competitors in the Six Nations, the Tri-Nations and Argentina.
Delegates discussed plans for the next World Cup in the chairman and chief executive's meeting in Auckland on Monday.
The smaller unions had built a strong case for World Cup organisers to make the scheduling more even.
Samoa, for example, had to play four times in 16 days due to midweek games in a pool featuring Wales and South Africa, who both had more generous fixture lists.
A World Cup statement said: "The Tier 1 union delegates at the meeting committed to playing midweek matches during RWC 2015 in order to help achieve a better balance for Tier 2 and Tier 3 unions."
The World Cup's current format of splitting 20 teams into groups of five was also endorsed at the meeting.
The chairmen also agreed to review the Rugby World Cup commercial model, revenue distribution and 2015 start date, after New Zealand last month threatened to pull out of the 2015 tournament, claiming they could not afford to put a team out because of the International Rugby Board's strict commercial regulations.
The key recommendations will be put forward to the IRB executive committee and/or the IRB council for consideration.
For the latest updates and reaction to this story read Sportsday Live. Have your say on Twitter via the hashtag #bbcsportsday.