Rugby World Cup 2011: Reaction to England's exit
Last updated on .From the section Rugby Union
Former England players and officials have been giving their reaction to the team's disappointing World Cup campaign which ended on Saturday with a quarter-final defeat to France and was marred by off-the-field controversies.
Dick Best, who coached England to a Five Nations Grand Slam in 1992, told BBC Radio 5 live that Martin Johnson "has learned a lot" since taking charge in July 2008 and should remain in place.
Kyran Bracken, a member of the squad that won the trophy in 2003, believes that the upheaval in the leadership at the Rugby Football Union "is probably the core of all these problems".
Former England hooker Brian Moore said Johnson and his coaching team were to blame and each of them should accept that an "unsentimental, non-personal review of their performance must conclude they go".
Former England coach Dick Best:
"I think he should stay. He has been in it for two-and-a-half years and has learned a lot. I think he has probably learned that he needs to take a tougher stance with some of these players.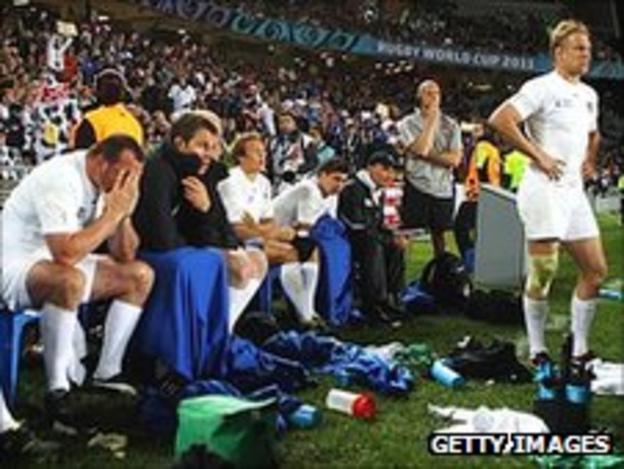 "They are almost behaving like footballers or worse, and the discipline angle off the field may have reflected on the field with the amount of penalties we gave away.
"Someone somewhere is not listening to what is going on and I'm not sure who is issuing the orders or instructions but it is not going in. It is clearly not going in.
"Johnson has been fire-fighting and that has not been enjoyable. I hope he does continue because I don't know anyone who can replace him at the moment. The succession planning at the RFU is a bit thin on the ground."
Rugby World Cup winner Kyran Bracken:
"The behaviour has not been of the standard England expect. It has been one thing after another after another and there is obviously a similarity between what is happening on the pitch and what has been happening off the pitch.
"It appears to be a mess. I think Martin Johnson himself needs to look at those around him in his own backroom staff but I think the RFU is probably the core of all these problems.
"They are an absolute mess without a proper chief executive. There is so much political in-fighting and the sooner that that gets sorted the better."
Rugby World Cup winner and London Irish attack coach Mike Catt:
"The Rugby Football Union is a bit of a shambles in itself at the moment so I don't know who Martin comes back and answers to.
"England have got the flair. It has just got to get used and given a bit of direction. I think England should keep the backbone of this side from the shambles of this World Cup.
"Ben Youngs and Toby Flood are going to be around still and you bring in the young guys around them.
"They have 20 or 30 caps under their belts and have got the experience. I think is time we wiped the slate clean and start again."
Former England scrum-half Austin Healy:
"Two years ago Wales had massive disciplinary problems, but they really have nipped that in the bud.
"I just feel that Johnno has given the players a little bit more rope and they have hung themselves with it.
"Shaun Edwards, who is now Wales defence coach, was one of the most disciplined players the world has ever seen. He knows how to rattle players' cages and get the best out of them.
"There needs to be more leadership. They need to re-ignite their passion."
Former England centre and ex-member of the RFU Council Simon Halliday:
"Whether [RFU acting chief executive] Martyn Thomas does or does not back Martin Johnson, he will not be around to offer that long-term backing anyway.
"He is the acting CEO because hopefully they are going to appoint another one.
"I put myself up a year ago as RFU chief executive as everyone knows and didn't get appointed. There is probably a time and a place for that sort of thing. The timing was right for me, it probably isn't now."
Former England captain and World Cup winner Lawrence Dallaglio in the Sunday Times:
"Last November's match against South Africa at Twickenham sticks in my mind as does the Grand Slam showdown against Ireland in Dublin last March, because England's forwards were bullied in both games.
"That was an indication of a fundamental flaw. It comes from poor leadership and not enough mongrel in the pack, and also explains the slow starts.
"Until this is sorted, we will remain vulnerable against teams that play with a lot of physicality, but there is no easy solution. Having watched the team through the World Cup, it is clear there is no 'X-factor' for Johnson."
Former England hooker Brian Moore in the Daily Telegraph:
"Johnson's supporters point to the fact that [former England coach] Clive Woodward was not sacked when England went out of the 1999 World Cup in the quarter-finals.
"However, Woodward had only been in charge for two years and after four years England were starting their journey to the top of the world.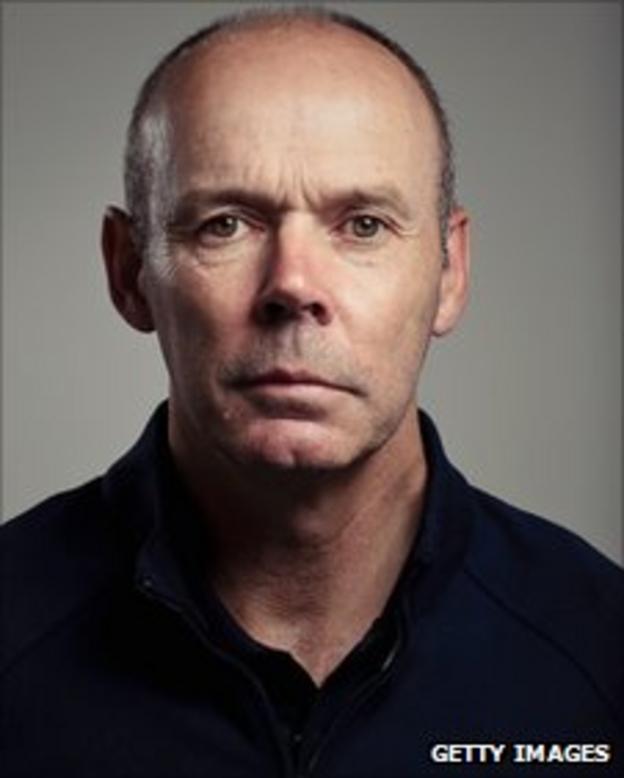 "Does this team, with another six months' experience, remotely resemble the Woodward team? Indeed, are England substantially further forward since Johnson took over?
"Some say his players let him down, but he chose them and set the boundaries and if, as has turned out, they were too lax, that is his fault.
"Johnson's overall record is played 38, won 21, lost 16, drawn one.
"The statistics for John Wells and Mike Ford, the respective forwards and defence coaches, are: played 68, won 34, lost 33, drawn one, points for 1,439, against 1,403. Against Tri-Nations teams it is played 22, won 4, lost 18, points for 301, against 670.
"Johnson would not have accepted such figures as a captain and player and he, Wells and Ford have to accept that an unsentimental, non-personal review of their performance must conclude they go."
Former England second row Paul Ackford in the Daily Telegraph:
"Shocking. Not because England lost a World Cup quarter-final against a rejuvenated French outfit. There is no disgrace in that.
"The expectation which sits on the shoulders of English teams in any sport is always ridiculously over inflated. Shocking because this group of players has not progressed one bit in this tournament.
"That's the accusation which is most difficult to duck."