Rugby World Cup 2011: France draft in Doussain on bench
Last updated on .From the section Rugby Union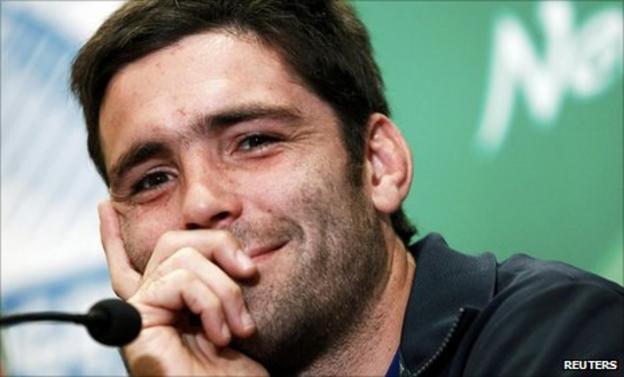 France have drafted scrum-half Jean-Marc Doussain onto the bench for their World Cup semi-final against Wales.
Dimitri Yachvili will start the game after picking up a thigh injury in the win over England.
But coach Marc Lievremont wants to avoid disruption if he does not last the course, rather than switching fly-half Morgan Parra.
David Marty drops out of the 22; flanker Fulgence Ouedraogo also comes in.
Ouedraogo takes over from number eight Louis Picamoles among the replacements.
"Fulgence can be useful in terms of breaking up the mobility and quality of the Welsh play," explained Lievremont, who also said he would have no qualms about using the inexperienced Doussain, who has not played in the World Cup to date.
"He has been training hard for the last month," the coach added. "He is not there by chance. I have full confidence in him."
Lievremont, who opted to stick with the same starting XV, also confirmed that Parra will take over the goalkicking duties from Yachvili.
It is the most experienced French starting side since their semi-final appearance four years ago, boasting 687 caps in total.
Eleven members of the side played in their 28-9 victory over Wales at the end of this year's Six Nations.
That is one of six victories by the French in the last seven meetings between the countries, the only exception when Warren Gatland's men won the Grand Slam in 2008.
"The danger is for the players to start thinking they are too good...we are Latin, so there is always a risk," said Lievremont after confirming his side.
"The Anglo-Saxons are far more pragmatic. I hope the prospect of playing in the final is enough."
France have lost at the semi-final stage in the last two World Cups, both times at the hands of England.
But they are targeting their third final in the tournament, having lost to New Zealand in the inaugural event in 1987 and to Australia in 1999.
"We have to be capable of imposing our own style of rugby," Lievremont added. "Wales have been playing with great intelligence. I have been impressed by their spirit and they have been playing world-class rugby."
Lievremont's team has already played twice at Eden Park at this year's World Cup, losing 37-17 to the All Blacks before beating England in the quarter-final. Wales have yet to play there.
France team: Maxime Medard; Vincent Clerc, Aurelien Rougerie, Maxime Mermoz, Alexis Palisson; Morgan Parra, Dimitri Yachvili; Jean-Baptiste Poux, William Servat, Nicolas Mas, Pascal Pape, Lionel Nallet, Thierry Dusautoir (capt), Julien Bonnaire, Imanol Harinordoquy.
Replacements (from): Dimitri Szarzewski, Fabien Barcella, Julien Pierre, Louis Picamoles, Francois Trinh-Duc, David Marty, Cedric Heymans, Fulgence Ouedraogo, Francois Trinh-Duc, Jean-Marc Doussain, Cedric Heymans.