Rugby World Cup 2011: Shaun Edwards dismisses French doubts
Last updated on .From the section Rugby Union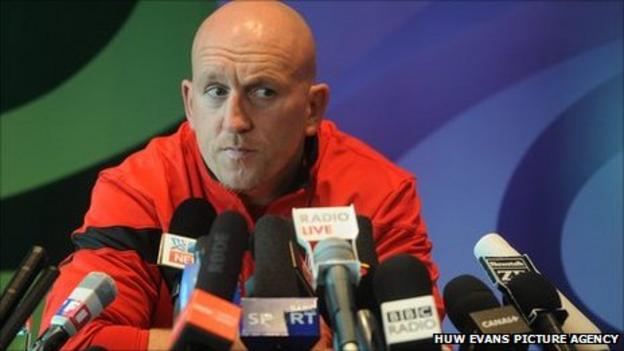 Wales defence coach Shaun Edwards has dismissed the belief that France are incapable of major back-to-back wins.
The sides meet in the World Cup semi-finals on Saturday with France having beaten England after two Pool defeats.
Ex-rugby league star Edwards said: "I've heard their coach say they have to overcome the obstacle of only having one big performance in them.
"[But] if you look at France in the Six Nations over the last five or six years... they have won it the most."
Wales' quarter-final win over Ireland owed much to the defensive strategy Edwards devised, as did their progress from Pool D in which they lost to South Africa before beating Samoa, Namibia and Fiji.
France beat Japan and Canada before losing to semi-finalists New Zealand and then Tonga in their last pool game.
But Edwards contends Les Bleus' record in Europe "shows they have consistently performed over five games" as he plots the methods that may keep France at bay.
"It is in the France team to be consistent and they do have the ability to be consistent," said Edwards.
"There has been one standout performance - everyone talks about their victories over the All Blacks - can they back it up the week after? We'll find out on Saturday."
France have lost only once in their last six encounters with Wales, who are being tipped as favourites by many pundits ahead of the clash at Eden Park, Auckland.
But Edwards sees Saturday's encounter as "50-50".
He added: "I remember in 2010 we gave two interceptions to them. In Paris we had a charge down that was pivotal in the game.
"We have to make sure that if France do get points against us they have to earn them.
"What we have tried to do throughout the competition is improve on every game.
"This will be no different. We will have to be even more accurate this weekend because it is the semi-final.
"I think there's more structure in world rugby in general.
"I think the French, along with everyone else, keep playing to certain set patterns which you can pick up.
"But I'm sure their attack coach will be adding lots of different patterns and different variations of certain formations that they do.
"It's my job to put my mind into what he's thinking so he doesn't out-fox us.
"You have to look at the number nine [Dimitri Yachvili] and number eight [Imanol Harinordoquy]. I thought they were pivotal in the victory [over England].
"They were outstanding and there's probably Maxime Medard carrying [the ball]. He's got magical feet and he beat a lot of players - even when they lost against Tonga he was outstanding, so Medard is a player we have to watch out for.
"A lot of it starts with the driven line-out. They have a very explosive driven line-out and that nine-eight combination is very vital to them."
Edwards says Yachvili is also a tactical threat and believes he will one day coach at the top level.
"He could be a great coach one day because to me he looks like a guy who totally understands the game of rugby," said the Wigan rugby league legend.
"He always seems to be calculating, to be one step ahead or even two or three steps ahead at a certain time.
"He looks to me like the sort of player his forwards like to play with because he's continually telling them what to do or almost coaching them out there on the pitch."
For the latest updates and reaction to this story, read Sportsday Live. Have your say on Twitter via the hashtag #bbcsportsday.