Jersey prop James Ellershaw improving after car crash
Last updated on .From the section Rugby Union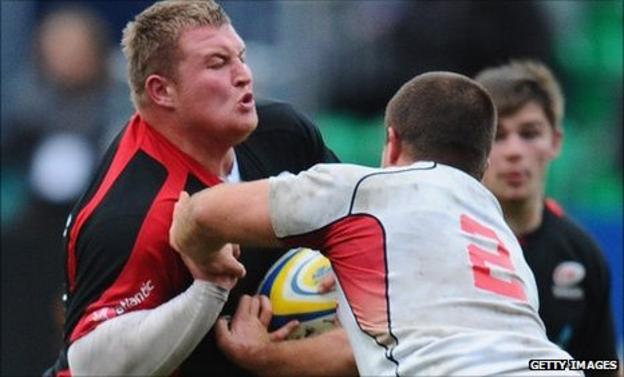 Jersey prop James Ellershaw has been moved out of intensive care as he continues to recover from serious injuries suffered in a car crash.
The former Saracens prop, 29, is in hospital in Luton after being injured following Jersey's loss to Cinderford.
Jersey head coach Ben Harvey told BBC South West: "He's out of intensive care and in a high dependency ward."
Harvey, chairman Bill Dempsey, and players Ben Evans and Nathan Hannay, are due to visit Ellershaw on Friday.
At this stage Harvey is unsure whether he will bring in another player to cover Ellershaw while he is out injured.
"We're looking into it at the moment, there might be a possibility but we'll have to wait and see," Harvey added.
Club chairman Dempsey continued: "We want to go over to see how he is and show our support.
"The shock of what happened is really only setting in now for me," he added.
Ellershaw has had two operations since the crash including one to rebuild his knee which was badly injured.
"He's been put back together slowly," Dempsey said.
"He's going to have a fair old battle ahead of him to get himself back into shape."
Meanwhile former Wales international prop Evans is due to play for the Barbarians on Tuesday against the South of Scotland after recovering from injury while Dai Maddocks is also coming back to full fitness.