Cornish Pirates backs division decimated by injuries
Last updated on .From the section Rugby Union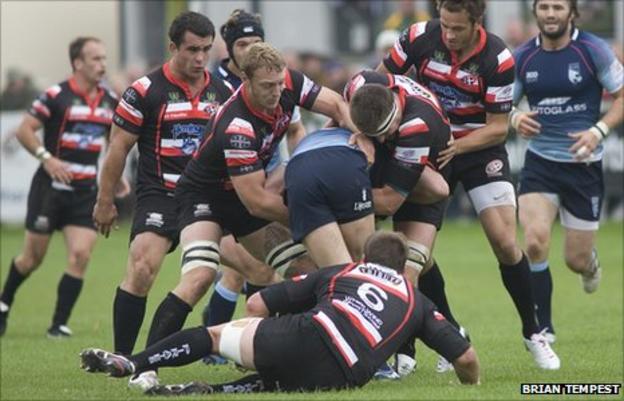 Cornish Pirates are struggling to cope with the amount of injuries their backs are suffering says boss Chris Stirling.
Pirates lost to Bedford on Sunday and face Plymouth Albion in the British and Irish Cup on Wednesday before going to Nottingham in the league on Friday.
"The injuries have been slowly building and then losing two backs early on against Bedford added to the woes," Stirling told BBC Radio Cornwall.
"To have three games in six days just compounds it," he added.
"We've got 16 backs - but only eight fit backs out of that 16, so we're really struggling in that area," Stirling added.
"It puts us in a challenging position and we love challenges so we'll have to dig deep."
Among the Pirates out are Darren Daniel, who is set to miss four weeks after having a knee operation, and Jonny Bentley, who came off with an abductor injury at Plymouth Albion.
Drew Locke is also doubtful with an ankle injury while Kieron Thomas has torn his hamstring and Tom Cooper faces up to six weeks out with a cruciate ligament problem.
It means more players than Stirling would have liked will be forced to play three games in less than a week.
"I've got no doubts that they can do it and get through it, but it's how they come out the other side that you generally get the effect and it's going to be a big, tough ask.
"Thankfully we play on Friday night and then our next game isn't until Sunday week at home so we do get a 10-day turnaround which will be a Godsend for us," Stirling said.