Northampton Saints eye new fans in Milton Keynes switch
Last updated on .From the section Rugby Union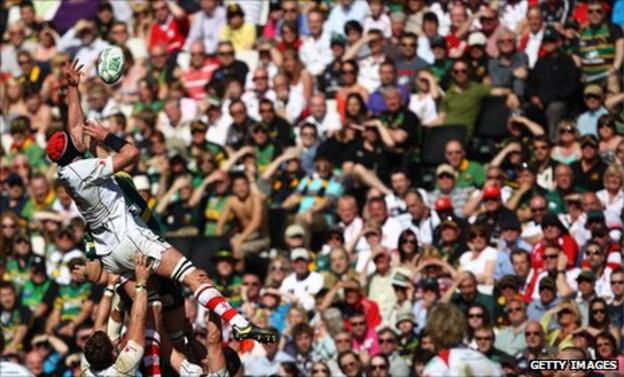 Northampton Saints chairman Leon Barwell has defended plans to play a third game in Milton Keynes, saying it will aid the club's future.
Barwell told BBC Radio Northampton: "Our aspiration is to fill Franklin's Gardens with 15,500 people every week.
"But to do that we have to go out and attract new supporters."
The club announced plans last month to increase Franklin's Gardens' current capacity of 13,500 to 15,500, with work expected to start in the summer of 2013.
Until then Barwell maintains that playing Heineken Cup matches at Saints' traditional home will reduce the number casual tickets available, because of the increased corporate and away fan allocation in the competition.
"Week in, week out we have about 13,000 home supporters," he explained.
"If we chose to play this particular game at Franklin's Gardens, we could not accommodate all of those people.
"It was going to leave regular supporters with the opportunity not to watch the game.
"This practice of switching to bigger venues when the demand is there is pretty well established in sport and rugby in particular.
"It's not without its issues, and we understand the concerns, but it's a good opportunity too."
The Saints chairman also reassured fans that Premiership fixtures would remain in Northampton: "Categorically we have no plans to move any of our Premiership games to Milton Keynes."
Northampton played Heineken Cup quarter and semi-final matches at Stadium MK last season, attracting a total of 39,540 spectators across the two games.