Rugby World Cup 2011: News round-up
Last updated on .From the section Rugby Union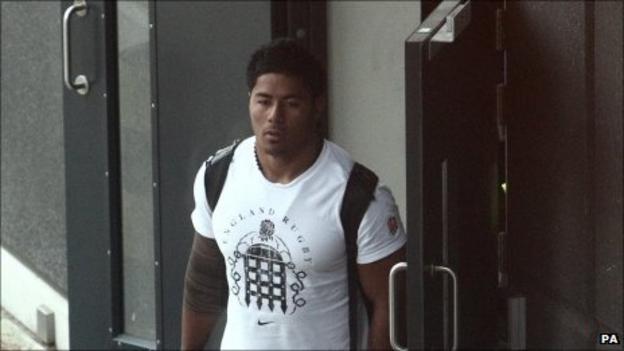 A round-up of the latest news, views and gossip from the Rugby World Cup in New Zealand.
England's indiscipline at the World Cup has been criticised again, this time by sponsors upset over their behaviour in New Zealand. Land Rover, who back both England rugby and the World Cup, have claimed players were "rude and arrogant" during a day out before the game against Scotland.
The Welsh Rugby Union is considering releasing more tickets for fans to watch the World Cup semi-final against France at the Millennium Stadium in Cardiff. More than 45,000 free tickets have already been taken up but the stadium seats 74,500. Gate will open at 0730 BST on Saturday in time for the 0900 kick-off.
France number eight Imanol Harinordoquy has boldy proclaimed Wales the "All Blacks of the northern hemisphere" ahead of their World Cup semi-final at Eden Park on Saturday. Wales lost their opening match 16-17 to South Africa, but Harinordoquy said: "I haven't really seen a team in this tournament that has made them suffer, that has really been able to destabilise them."
Former Australian rugby union international Pat Howard has been appointed as general manager, team performance of Cricket Australia.
All Blacks legend John Kirwan will step down as Japan coach when his contract expires in December. The 46-year-old has coached the Brave Blossoms since 2007. Japan, who will host the 2019 World Cup, failed to win a match at this year's tournament.
Former Test referee Andre Watson believes Bryce Lawrence will never control a Rugby World Cup game again after his performance in last weekend's quarter-final victory for Australia over the Springboks. The South African, who is the only man to referee two World Cup finals, said: "He allowed a free-for-all." Watson added that Lawrence, who is rated as one of the best referee's in the Southern Hemisphere after taking control of the Super 15 final, will be admonished by the IRB and will never control a match at the tournament again.
Could Wales' march to the semi-final of the World Cup be down to a visit to a cryotherapy chamber in Poland? The Daily Telegraph's Jonathan Liew braved the minus 184F (-120C) temperatures at the country's Olympic Sports Centre to find out for himself.
Russia, who made their rugby World Cup debut last month, plan to bid to host the tournament in 2023, the Russian Rugby Union (RRU) said. "During our board meeting RRU president Vyacheslav Kopyev stated that Russia would lodge a formal bid to host the World Cup in 2023," the union said on its website (www.rugby.ru). "The Russian team had a respectable showing in New Zealand, scoring eight tries - a great achievement for the World Cup debutants. Still, we fell short of our main objective - we could not win against the United States."