RFU give Martin Johnson two weeks to decide future
Last updated on .From the section Rugby Union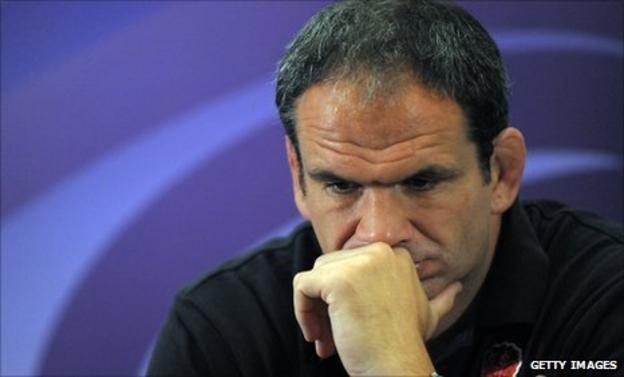 Martin Johnson has been given "seven to 14 days" to make up his mind whether he wishes to continue as England manager.
Johnson has yet to give any indication about his future following England's controversial World Cup campaign.
But the Rugby Football Union's (RFU) acting chief executive, Martyn Thomas, said he wanted a decision from Johnson before the end of the month.
"I've given him in fact seven to 14 days to advise me of the position," said Thomas.
England's World Cup campaign was dogged by controversy before and after their defeat by France in the quarter-finals.
The RFU have launched an investigation to examine claims of player misconduct during their campaign in New Zealand.
It will focus on events during a night out drinking in Queenstown, a and a trip on a ferry.
Those found to have breached their code of conduct will be fined or suspended.
Johnson's contract expires in December and he has not yet decided whether he wishes to carry on in the role which he has held since 2008.
"I had a meeting with Rob Andrew on the Monday," added Thomas about Johnson's future.
"I asked Rob, as his line manager, to speak to him and say we need answers as to whether he wishes to seek to stay in the post, not that it's his decision to remain."
Meanwhile, Thomas said the misconduct investigation would be carried out by Karena Vleck, the head of its legal department.
England captain Mike Tindall was captured on CCTV footage in the Altitude Bar, reportedly in conversation with an old flame.
England manager Martin Johnson had given players permission to go out but Tindall later apologised for mistakenly misleading the England management by initially claiming he did not go on to another bar.
Johnson also confirmed that he had reprimanded James Haskell, Dylan Hartley and Chris Ashton for a reported incident with a female worker in their Dunedin hotel.
And Manu Tuilagi was fined £3,000 by the RFU for jumping off a ferry into Auckland harbour, which attracted the attention of the police.
Thomas said the England manager had been "let down by a number of the players".
"The off-field performances have been wholly unacceptable," he said.
"The players were extensively counselled and coached on the implications of this tour and the conduct that was required of them was made clear to them.
"I don't believe any individual can put their hand up and say, 'We didn't know what was going to happen'. They were fully prepped."