Mike Tindall and Martin Johnson criticised for England's World Cup failure
Last updated on .From the section Rugby Union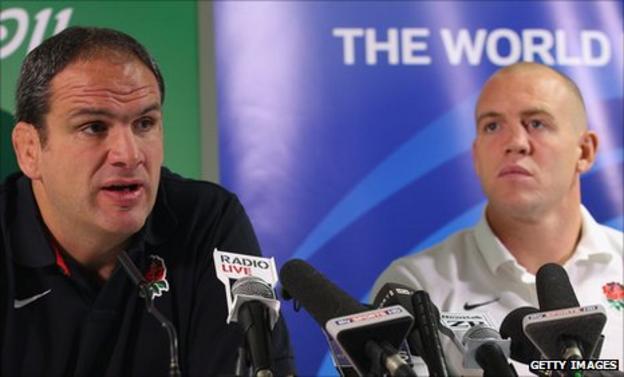 Former England captain Fran Cotton has criticised Mike Tindall and Martin Johnson after being appointed to head a review of the Rugby Football Union.
Cotton, who is chairing an independent review of the entire England structure, singled out Tindall for getting "absolutely hammered" on a night out.
He said: "That is not part of an athlete's lifestyle. What example does that set to the younger players?"
Of Johnson, he added: "I've not seen an improvement in three-and-a-half years."
Cotton, who is in charge of a two or three-strong panel including at least one member from outside the game, will examine every aspect of the RFU's professional rugby department.
But on Tindall, he said: "What concerned me is that one of the leading players and the captain at that time was out at two in the morning and obviously absolutely hammered."
And, in the interview with Sky Sports News, he hinted that it may be time for Johnson to go.
Cotton said: "Martin has now been in charge for three-and-a-half years and it is very difficult to understand what style of play this England rugby team is all about.
"The basic skills of rugby at that level just aren't good enough and I haven't seen an improvement in the last three-and-a-half years."
England's failure at the World Cup is the subject of another review - by the RFU's director of rugby operations, Rob Andrew.
Cotton's team will also review Andrew's review - and report their conclusions to the RFU's management board and council on 2 December.
Andrew has just accepted a new position of professional rugby director - examining the governing body's relationship with Premiership Rugby and the Championship - but that role has yet to be rubber-stamped by the RFU.
Cotton's panel will have the power to recommend the person they believe should head up the professional rugby department and they could choose an alternative to Andrew.
That could be 2003 World Cup-winning coach Sir Clive Woodward, who earlier this year rejected a return to Twickenham as performance director because the RFU were planning to reduce the scope of the role.
Cotton told BBC Radio 5 live at the time: "It's probably the most important role in English rugby and world rugby and [former chief executive John Steele] is talking about downgrading the role to bring in Mr Average instead of Clive Woodward or [New Zealand coach] Graham Henry, the people England need."
If he is to continue as manager, Martin Johnson, whose contract expires on 21 December, may have to work within a new-look management structure.
One possible change could be the appointment of a senior England team manager - in the mould of New Zealand's Darren Shand - who would be in charge of not only logistics but also team discipline.
Had England had such a figure during the World Cup it would have freed Johnson to deal with on-field matters rather than being bogged down by the various controversies which blighted England's tournament.