2011 Rugby World Cup: Wales are in-form side - Keven Mealamu
Last updated on .From the section Rugby Union
New Zealand hooker Keven Mealamu believes Wales are the best team left in the Rugby World Cup.
The 90-cap All Blacks star now wants to see a New Zealand-Wales final on 23 October in Auckland.
"I think they are the form team at the moment," said Mealamu.
"So it would be great to play against what looks like the best team in the competition at the moment. Great forward play. Great backs. They put it together really well."
The All Blacks last played Wales in November 2010 when they beat Wales 37-25 at the Millennium Stadium.
But they only led 13-9 at half-time and had to dig deep for the victory which extended their winning run to 23 times since Wales had their last success over the All Blacks in 1953.
And Mealamu remembers it was a tough game 11 months ago.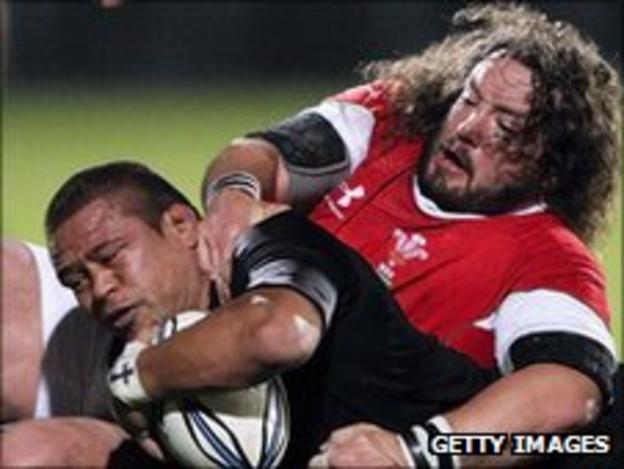 "They are a very competitive side to play against. When we played them last year at the Millennium Stadium they were a bloody good team," he added.
"It's not such a surprise [they are in the semi-finals] because watching the games Wales have been one of the definite form teams of the World Cup.
"I guess people wouldn't have picked them to be there [in the semi-finals] but you can't deny they are there the way that they have been playing.
"The way they play is pretty similar to us. It's been awesome to watch.
"That [a Wales v New Zealand final] would be pretty cool. But we have got a job to do first to make sure we get there.
"If we take care of that then anything is possible. We have got a huge task ahead of us with Australia. We are not going to count our eggs too early."
Mealamu also warns about Wales' challenge against France in the other semi-final on Saturday.
"[France] are a totally different team when it comes to play-offs. You have seen that in the quarter-final. They were a totally different team that lost to Tonga.
"Play-offs is a whole different competition. You've got to get it right on the day.
"It will be a tough one [against France] but I would say Wales.
"But like us they have got to get there first and get the job done at the weekend."
Watch the full interview with Keven Mealamu on Sport Wales, BBC Two Wales on Friday, 14 October 1900-1930 BST.