Rugby World Cup 2011: News round-up
Last updated on .From the section Rugby Union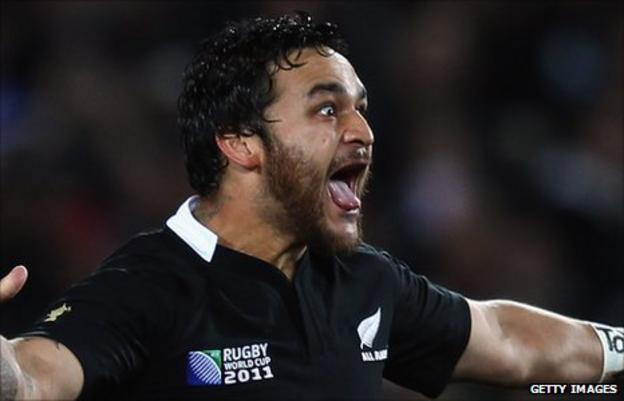 A round-up of the latest news, views and gossip from the Rugby World Cup in New Zealand.
All Blacks scrum-half Piri Weepu has been anointed saviour of the nation. In the absence of Carter, Weepu kicked 23 of New Zealand's 33 points in their quarter-final victory over Argentina last week and he is apparently second behind John Key in the preferred Prime Minister's stakes. A Piri Weepu for Prime Minister Facebook page has already been created and he's even been touted as someone to solve the Tauranga oil crisis.
French coach Marc Lievremont has admitted to being "afraid" of Wales ahead of their World Cup semi-final on Saturday, but he is taking heart from the quarter-final victory over England. "I am afraid of the Welsh," he said. "Right now we are running on adrenaline - I keep telling myself I can sleep in 10 days' time. I don't need much sleep generally, but it is true, I am more stressed right now. What we need to remember is that we had never beaten England at such a high level. That's something we can take strength from."
France have drafted scrum-half Jean-Marc Doussain onto their bench for Saturday's World Cup semi-final against Wales.
New Zealand fly-half Dan Carter has had an operation on the groin injury that ended his World Cup. The New Zealand Rugby Union confirmed he had surgery in Melbourne on Monday, returning to Auckland on Wednesday. He is expected to be out for 12 weeks.
The Wallabies versus the All Blacks has produced 122 years of animosity says the Sydney Daily Telegraph, outlining several moments that have divided the nations.
New Zealand coach Graham Henry forgot the name of the Australian Prime Minister in a conference ahead of their last-four clash at the World Cup. Henry referred to Julia Gillard as "Mrs What's-her-name". Gillard and her Kiwi counterpart John Key have swapped shirts and had a bet on the outcome of Sunday's game. The leader of the losing country will eat the apples of the winning country.
Australia's coach Robbie Deans has reiterated that he has no divided loyalties going into the semi-final against New Zealand. The 52-year-old played five Tests for the All Blacks as a full-back in the 1990s and guided the Canterbury Crusaders to five Super Rugby titles before taking the Wallabies job in 2008. "It's often suggested to me that I will have mixed emotions. I'm firmly embedded now [with the Wallabies], there's none of that," he insisted.
New Zealand coach Graham Henry says the late kick-off times for the semi-finals pose a challenge for him because they are past his bedtime. Both games start at 2100 local time (0900 BST) as will the final on 23 October. The 65-year-old quipped: "I'm usually asleep by then."
Wales fan Barrie Partridge, who passed away a little over one month before the World Cup started, will have his ashes scattered at Eden Park before the semi-final against France. Partridge's son, Barrie-John, named after Welsh legend Barry John, said: "I made a promise I would one day leave a part of him at Eden Park and decided I'd do it now, so he would be here in spirit. He'll be there in a box in my backpack, but I'll have a pill bottle full of ashes in my pocket ready to sprinkle."
A New Zealander who shares his name with referee Bryce Lawrence has been receiving calls from angry South African fans who blame the Kiwi official for their team's Rugby World Cup exit at the hands of Australia. The Auckland resident, who said he had been getting telephone calls at all hours of the night after his number was posted on a number of websites, was reasonably calm about the situation, saying: "These things happen. It's one of these things in life."
Australia's Daily Telegraph has printed a cutout Voodoo doll of New Zealand winger Sonny Bill Williams ahead of their semi-final clash on Sunday, claiming he is the "perfect villain". Could the doll already be working? Williams has been left on the bench. If the Voodoo doll sounds familiar, the same paper printed a similar picture of England's Jonny Wilkinson before the 2003 final and we all know what happened there...
This page will be updated throughout the day.