Rugby World Cup 2011 semi-final: France thank 'guardian angel'
Last updated on .From the section Rugby Union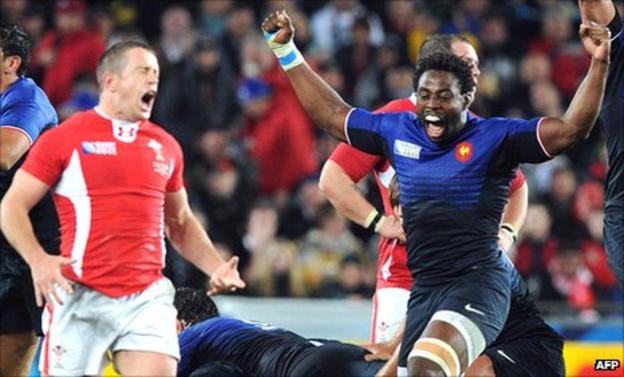 France coach Marc Lievremont said Les Bleus' "guardian angel" helped them to their 9-8 semi-final win over Wales.
Lievremont acknowledged Wales were the better team even with 14 men, after the controversial dismissal of captain Sam Warburton for a supposed spear tackle midway through the first half.
"They have been amazingly brave but the French team might have a good guardian angel," said Lievremont.
He maintained Warburton's red card was the correct decision.
"You have seen the tackle, it was a very dangerous tackle and it deserves the red card but it was unfortunate that the game was unbalanced in the way it was."
Lievremont added: "I think there are a lot of people annoyed that we have qualified but we played with our hearts. We have qualified for the final and that is all that counts.
"We did not start well and we lost confidence. When they went down to 14 and we had 15, we were still inhibited. But that does not matter. What matters is when they scored [a try] we kept our composure.
"I will not brood or be unhappy because it was not our best game. What matters is we are going to the final."
France scrum-half Dimitri Yachvili admitted his team were fortunate to reach the final.
"We know Wales maybe deserved to win because they had the injury [to prop Adam Jones] and a red card," he said.
"We didn't play our best rugby but we won and we are very happy."
France have stuttered their way through to a third World Cup final, losing twice in the pool stages, and failing to impress again on Saturday.
"We started this competition very badly but we are proud because of the team spirit in the French team," Yachvili added.
"In 1987 France were in the final and those players for us are legends, but now it's us."
Captain Thierry Dusautoir commented: "We're really happy to be in the final. It was a really tough game but we are going to play a Rugby World Cup final so we are really happy.
"We won thanks to our defence. We didn't play such good rugby, the way we can, but we played with our hearts."