Rugby World Cup 2011: Lievremont laments 'spoiled brats' in team
Last updated on .From the section Rugby Union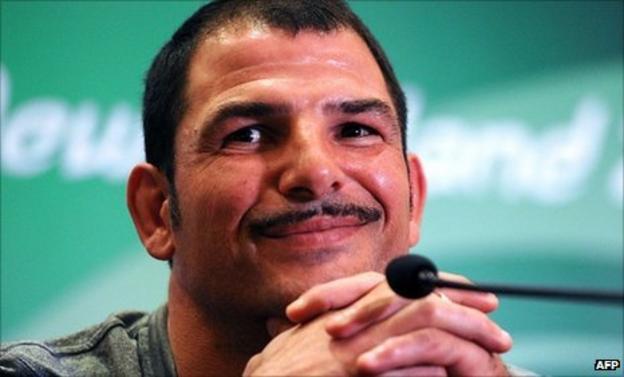 France coach Marc Lievremont has called some of his players "spoiled brats" for ignoring orders not to go out after their semi-final win over Wales.
Lievremont said he told his players what he thought of their decision.
"I told them they are a bunch of spoiled brats ["sales gosses"]," he said.
"Undisciplined, disobedient, sometimes selfish. Always complaining, always moaning. It has been like this for four years."
Lievremont did not name the culprits but, when asked how the players had responded to his harsh words, he added with a smile: "Oh, they appreciated them.
"I also told them I have a lot of affection for them. We are in the final but it is a shame they don't look after themselves."
Lievremont, who will step down and be replaced by Philippe Saint-Andre after next Sunday's World Cup final, wants to ensure his players do not repeat the experience of 1999.
The former flanker was part of the side that upset the All Blacks in a memorable Twickenham semi-final but could not repeat the same level of performance against Australia in the final.
"The problem is, we are not world champions yet, we're only in the final," Lievremont said. "Does it really surprise you, my attitude?
"In 1999 we spent four days celebrating our semi-final win. We didn't prepare properly and I don't want us to relive this same thing."
The coach nevertheless dismissed his players' night out as "incidental".
"It's really not very important," he added. "It is not a few cigarettes, the two or three beers... or the extra dessert they eat that will affect their preparation for the final."
Meanwhile France wing Vincent Clerc admits he "was never so scared on a field" as when 14-man Wales went through 26 phases of attack in the final minutes in a desperate attempt to win the game.
He said it took some time for the team to realise the enormity of their achievement in reaching the final.
"We went back to the lockers very quietly," he recalled. "It took us two to three minutes to realise that it was done, that the game was over, that we were in the final.
"We are really relieved because we suffered all through the game. After the red card, we adopted the wrong plan. We were suffering under the Welsh pressure. We did not do anything in attack and we lost a lot of balls.
"Fortunately, our defence was pretty remarkable. We managed to stay disciplined and that also saved us. I was never so scared on a field."
Flanker Julien Bonnaire added: "Maybe we thought a bit too early in the game that we had won?
"We were not good in the pool phase. We disappointed many people, here and back home, but I hope we made it up for them by making the final."