Rugby World Cup 2011: Manu Tuilagi sorry for 'stupid' behaviour
Last updated on .From the section Rugby Union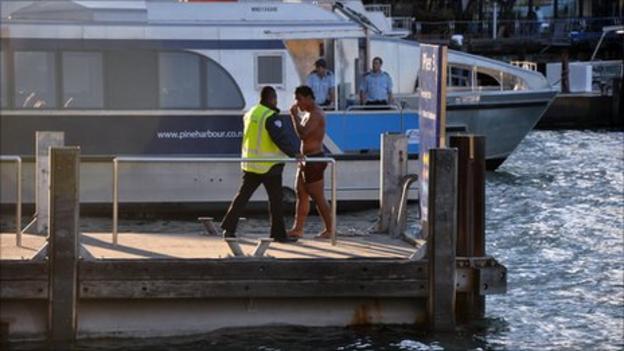 Manu Tuilagi says his misbehaviour at the Rugby World Cup let down his family, manager Martin Johnson and the people of England.
Speaking to the Mail on Sunday, Tuilagi said: "It was a nice day, I was sore after the game and I thought it would be good for recovery.
"It was such a stupid thing to do."
Tuilagi's jump from the ferry was one of several examples of misbehaviour which marred England's World Cup campaign.
Johnson was forced to defend captain Mike Tindall after a night out, while three players were .
After leaping from the ferry on a visit to Waiheke Island with team-mates on 9 October, Leicester Tigers back Tuilagi, 20, was met by harbour officials at Matiatia ferry wharf then detained by police.
He said: "I was on the ferry with all the Leicester lads in the team and, when I mentioned doing it [jumping] to them, they said I was all talk and I wouldn't follow it through. Then I had to prove them wrong.
"I'm not blaming anyone but myself.
"First it was Martin Johnson. Obviously, he wasn't happy. He hit me with a £3,000 fine, we issued a brief statement and, from an England point of view, it was sorted.
"I was a bit worried about his reaction but I was a lot more worried about my family, especially my mum.
"Freddie [his eldest brother] found out and phoned me. I refused to answer at first because I knew what was coming.
"In the end I knew I had to face up to it. He was furious.
"The worst moment was dealing with my mum. She wasn't at all happy and she didn't even know the whole story at first.
"When I got back to Leicester, Richard Cockerill [the Tigers's director of rugby] got hold of me and had a go as well. He told me I had let myself, the club and the club's fans down - and he is right.
"In fact, I've let down my family, I've let down Martin Johnson and I've let down the people of England."
Tuilagi was also fined £4,800 for wearing a branded gumshield.
On England's World Cup exit, Tuilagi said France seemed to want the win more.
He added: "I've never seen a dressing room like that afterwards. I didn't know what to say. It was dead quiet apart from the sound of some crying.
"It was like being at a funeral. I know some people are not very positive about the England team right now but it hurt everyone so much.
"I never want to be in a dressing room like that again."