Rugby World Cup 2011: Shane Williams set to delay retirement
Last updated on .From the section Rugby Union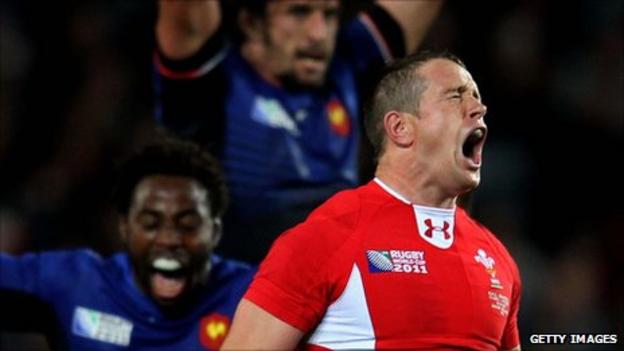 Shane Williams has said he is being persuaded to delay his planned Wales retirement until the Australia clash at the Millennium Stadium on 3 December.
Wales' record try scorer had announced he would give up international rugby at the end of the World Cup.
But the 34-year-old, who has won 85 Wales caps, is now considering saying farewell on home soil.
"I'd love to finish off in the Millennium Stadium. There is no better place for me to play," Williams.
"It would be lovely to have my family and the kids and everyone there.
"I was fully committed in making sure this [the third place play-off] would be my last game in a Welsh shirt on Friday. I was hoping it was Sunday [the final] but it obviously it's not going to be.
"But there was a question [asked] whether or not I would prefer to go out at home, which really knocked me for six because I was committed [to retire].
"It would be fantastic to never have to retire, but that's not the case and when this opportunity was given to me it made me start thinking again.
"There will be no bigger occasion for me. It will be an emotional time and certainly a day I will never forget."
If Wales had reached Sunday's final then the likelihood is Williams would have bowed out then.
But the offer of a farewell in Cardiff in December has persuaded him to extend his international career for one more game.
But Williams stressed he will be concentrating fully on Friday's bronze-medal match against Australia in Auckland.
"It's a difficult one because obviously I'm just concentrating on the game on Friday first of all. It's a big game," said the British & Irish Lion.
"As far as I was concerned that would be the last time I played for Wales unfortunately. [But there's a] little bit of pressure on at the moment to retire at home, which again would be a great occasion.
"As far as I 'm concerned I can come out fully committed on Friday and play a good game for the guys because I think we deserve something out of this World Cup.
"But I'm still worrying about Friday at the moment.
"We felt we deserved a lot more from this tournament and we are a proud bunch of guys and we want to go out on Friday and just show everyone back at home - especially all of the support we have had at the Millennium Stadium.
"We believed from the start that we were good enough to win this competition. We feel we have given a massive account of ourselves and we feel we deserve something out of this tournament."
The Ospreys star admits that as well as him there could be a few more changes in Wales' line-up over the coming months as Wales start their rebuilding for the 2015 World Cup.
"I'm sure over the next couple of years, even months, you'll see a few changes. But whatever changes there will be I'm sure they will be positive," believed Williams.
"The talent of players coming through in Wales is the strongest we've seen if we are honest and you just have to look at the likes of the George Norths and the Halfpennys.
"We'll have to see what's round the corner but it's quite exciting.
"The only thing that depresses me is when I see their date of birth and I realise how old I am!
"I think they have carried people like me through it because we have had our tough times out here. It has been a hard old slog out here. We have been away from our families."