Rugby World Cup 2011: News round-up
Last updated on .From the section Rugby Union
A round-up of the latest news, views and gossip from the Rugby World Cup in New Zealand.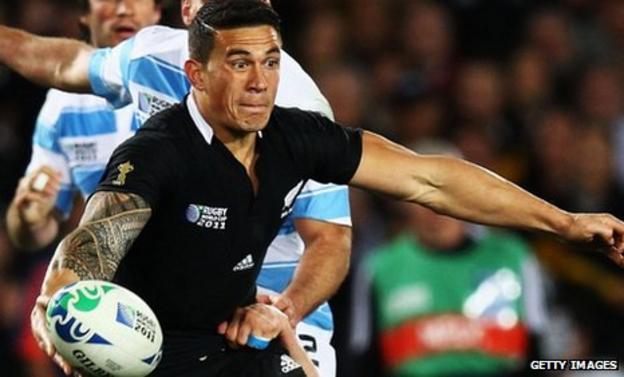 World Cup favourites New Zealand are evolving into a team of "robo-players" -taller, leaner and more muscular than their predecessors - a study has revealed. Researchers at Massey University compared the physiques of the 2005 All Blacks side to the "The Originals" of 1905, the first New Zealand team to tour Europe and the first to adopt the All Blacks moniker. It found the average 2005 All Black was 1.87m (6ft 1in) tall and weighed 102.5 kg (16st 2lb), compared to 1.75m (5ft 9in) and 81kg (12st 10lb) a century earlier. That means the smallest member of the current All Black team - fly-half Aaron Cruden - is still taller and heavier than the average 1905 player. Massey researcher Jeremy Hapeta said the typical All Black physique was also becoming more uniform across the team, nominating Sonny Bill Williams (191cm, 110kg) as the modern protoytpe "robo-player".
Lock Pascal Pape says the fact France have been completely written off - one online bookmaker has already paid out on an All Blacks win - will "motivate us even more" in Sunday's final against New Zealand. "It is like we are alone in this world, but it is not a problem. It gives us another push," Pape said. "We have not had a great competition, but we are in the final. I don't think there are many French supporters left (in New Zealand). They never thought we would make it to the final. If there is any fear we might as well not bother turning up for. The motivation is extreme - we cannot fear this match."
Injured All Blacks fly-half Daniel Carter admits he has been a nervous spectator watching his team-mates reach the final. "Having to watch the last two games, the weekends are probably the toughest times for me," he said. "When I'm sitting there watching the game I get extremely nervous. I'm not a very good spectator. I get so nervous I'm commentating, having conversations with myself. I've been told to shut up a few times. But that's how passionate I am. I just want the boys to win so badly like the rest of us."
Assistant All Blacks coach Steve Hansen has straight-batted speculation about his coaching future. The former Wales coach is among the favourites to succeed Graham Henry when the head coach steps downs after Sunday's final. But Hansen said on Thursday: "It's not even something I am thinking about at the moment. Four years ago we got knocked out in the quarter-final of a World Cup, and three coaches (Henry, Hansen and Wayne Smith) made a decision to try and re-get the job, and we did that. We were lucky enough to get reappointed, and last weekend we earned the right to turn up on Sunday at nine o'clock to try and win the thing. That is the only thing I am thinking about. I don't really care what happens after Sunday."
Hooker Huw Bennett says Wales will relish the prospect of tackling Australia in Friday's third/fourth-place play-off at Eden Park despite the "devastating blow" of missing out on the final. "It is a big test of character for us," he said. "We cannot dwell on France. We are involved in a play-off, and if you cannot get up for that then you are in the wrong job. We have moved on and we are relishing taking on Australia."
Tournament organisers Rugby New Zealand 2011 have announced they have achieved their revenue target with two matches still to be played. Revenue from ticket sales has surpassed the NZ$268.5m (£134.8m) target set by RNZ 2011 more than two years ago. Overall, 87% of available tickets have now sold. Sunday's final is sold out.
A New Zealand rugby fan born just hours after the All Blacks won the 1987 World Cup is set to be at Eden Park on Sunday as they bid for only their second global title. Born on 20 June, 1987, Anneke Ryff is probably the oldest of the 1.5m New Zealanders who were not born when the All Blacks won the tournament for the only time. For supporters seeking an omen, Ryff is now the girlfriend of Ryan Fox, son of Grant Fox, the fly-half in New Zealand's 1987 triumph.