Rugby World Cup final 2011: Hansen cool on All Black job speculation
Last updated on .From the section Rugby Union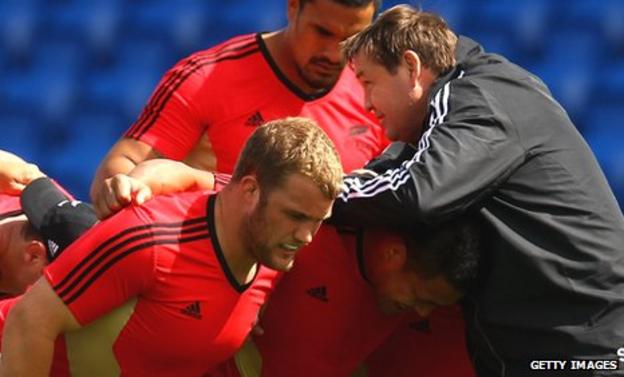 New Zealand assistant coach Steve Hansen insists he is not thinking about his chances of replacing All Blacks boss Graham Henry.
Henry will step down after Sunday's World Cup final against France, and former Wales boss Hansen is among the favourites to replace him.
"I don't really care what happens after Sunday," he insisted.
"All I am focusing on is trying to get a team ready to win, there is no room for anything else at the moment."
Hansen was part of the coaching team - along with Henry and Wayne Smith - that was in charge as New Zealand were beaten by France in the last eight in 2007.
"Four years ago we got knocked out in the quarter-final of a World Cup, and three coaches made a decision to try and re-get the job, and we did that," he said.
"We were lucky enough to get reappointed, and last weekend we earned the right to turn up on Sunday at nine o'clock to try and win the thing - that is the only thing I am thinking about."
New Zealand are red-hot favourites to be crowned world champions for the first time since 1987, when they beat France at Eden Park, the venue for Sunday's showpiece.
They also easily won against Les Bleus in the pool stage, but famously lost to France in the knockout stages of both the 1999 and 2007 World Cups.
Hansen insisted the French "have earned the right" to play in the final.
"It's a two-horse race, and both teams will be doing their utmost to win it.
"But I know there is a huge, huge desire [in the New Zealand squad]. There is a huge excitement about having the opportunity to do something special."
The All Blacks will have to try to win the final without star fly-half Dan Carter, who was forced out of the tournament after injuring his groin during the knock-out stage.
"I was pretty gutted the first few days. I guess anger did creep in a little bit," said Carter, who had surgery on the injury in Melbourne last week.
"I didn't really want anything to do with the World Cup. I wasn't going to go to any games, I sort of dropped my lip a bit.
"Then it kind of hit me after five or six days that the World Cup is here in my home country and I'm going to make the most of it like everyone else and get to the games, enjoy the atmosphere.
"It's been quite different for me and I've loved every minute of it.
"I'm not a very good spectator. I get so nervous I'm commentating, having conversations with myself. I've been told to shut up a few times. But that's how passionate I am. I just want the boys to win so badly."