Rugby World Cup 2011: Jeremy Guscott's World Cup final analysis

By Jeremy Guscott
Ex-England and Lions star
Last updated on .From the section Rugby Union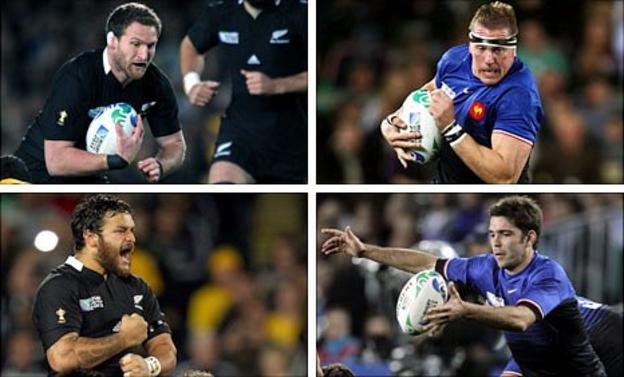 THE CONTEXT - WHERE ARE WE AT IN THE 2011 WORLD CUP?
So this is it. Twenty four years after the first ever World Cup final, once again France face New Zealand at Eden Park in the sport's biggest showpiece.
The two teams have reached the final in contrasting fashion. New Zealand have rarely looked anything other than in control as they have smoothly progressed, even shrugging off the loss of star fly-half Dan Carter.
France's progress has been altogether less impressive, and they have already lost to the All Blacks, comprehensively, in the group stages.
That defeat was followed by a calamitous loss to Tonga, and although they beat a disappointing England, the main reason they are in the final is because Wales had captain Sam Warburton sent off in the semi-final.
France have had a guardian angel watching over them for the past seven weeks and if they win the World Cup it will be a miracle.
KEY PLAYERS - WHO ARE THE MAIN MEN IN AUCKLAND?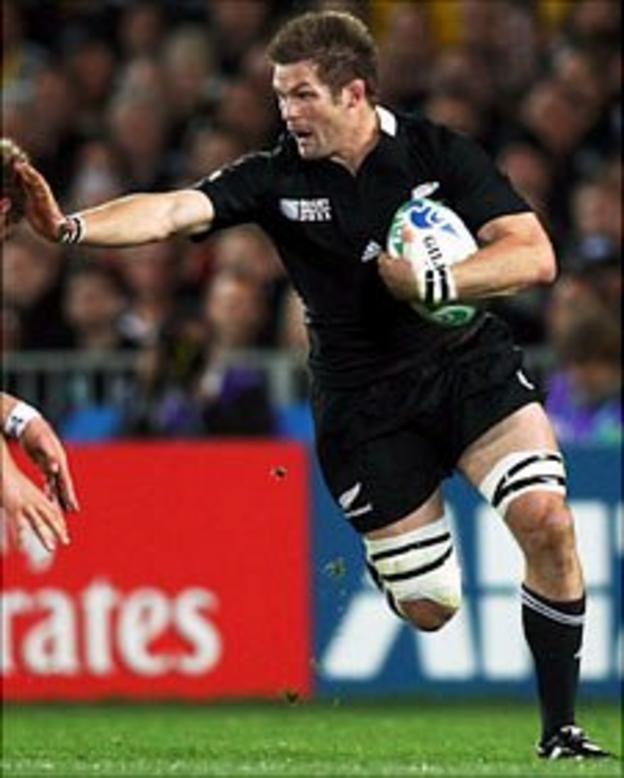 A major head-to-head battle will be between the respective captains and open-sides, Thierry Dusautoir and Richie McCaw.
Dusautoir will tackle for 80 minutes, as he did in the quarter-final win over the All Blacks in 2007, when he made 38 tackles, and as he has done once again in this tournament.
McCaw had been struggling with a foot injury but against Australia in the semi-final he was back to his absolute best.
It wasn't just him who outplayed Wallaby open-side David Pocock though, he had support from the whole of the New Zealand eight, and that is one of the differences between them and France.
He is guaranteed quality support - will Dusautoir be backed up as well?
Another key battle is between the two number eights, Imanol Harinordoquy against Kieran Read.
Harinordoquy is very capable of raising his game, he's big in the line-out, he's a great ball carrier, he's very athletic and gets round the park.
Read is similar, but for Harinordoquy to succeed he must hope he gets the support of his seven other mates in the pack - Read knows he will get that support.
The other massive battle is Dimitri Yachvili against Piri Weepu at scrum-half. Yachvili has been the keystone of the French side so far in the tournament.
He has been a very strong general, dictates what goes on, kicks goals well, and when he's been injured Morgan Parra's taken over and done a good job.
Weepu is one of the six nominees for IRB player of the year, which tells its own story. He's got things moving and been very steady.
And then there's Ma'a Nonu, another of the IRB half-dozen, at inside centre for the All Blacks.
Nonu is, in the nicest sense, like a Tasmanian devil. When he goes into contact he's shaking and pushing and shoving and fighting to keep going. He's very difficult to keep hold of, he bustles out of tackles and pops the ball on to support to keep the move flowing.
If he's in the mood he's very hard to contain.
THE BUILD-UP - WHAT SHAPE IS EACH TEAM IN?
No-one other than French supporters and players think France are going to win. But I've been in teams where we were not expected to win and you do, suddenly, come together - not because you're responding to criticism but because of personal pride.
If the French team play to the best of their ability I have no doubt it will be an unbelievable game of rugby.
New Zealand will be thinking 'we should win this game' but France have smashed them out of the World Cup on two occasions, in 1999 and 2007.
Only McCaw and Tony Woodcock from that last game will start but they will know what the French are capable of.
TACTICS - WHAT GAME PLAN CAN WE EXPECT FROM THE TWO SIDES?
I'd love to be able to tell you 'this is what France are going to do' but I can't, because they have been playing in such an un-French way.
They kicked the ball away a lot against Wales and were quite prepared to defend rather than attack, which is so un-French if you look back over history - they were scared to win it.
It beggars belief really, so I couldn't tell you what their plan is for Sunday.
But the French at their best can have a period in the game - it might only be five or 10 minutes - when they can be absolutely sublime and run in three tries. If they do that on Sunday it is game on.
New Zealand will be so quick out of the blocks, they will be aiming to terrorise France from the opening whistle. They will be looking to play so quickly and skilfully, executing everything with such precision and physicality, that they blow France out of the water.
PREDICTION - WHO'S GOING TO BECOME WORLD CHAMPIONS?
This game is about France turning up - we know New Zealand will turn up. They have to say 'we're expected to lose this game. What better thing can we do than go out there and show the rest of the world what we're really capable of'.
If France turn up it will be a close game. If they don't, New Zealand will win by 20 points.