Rugby World Cup 2011: Don't make players scapegoats - players' union
Last updated on .From the section Rugby Union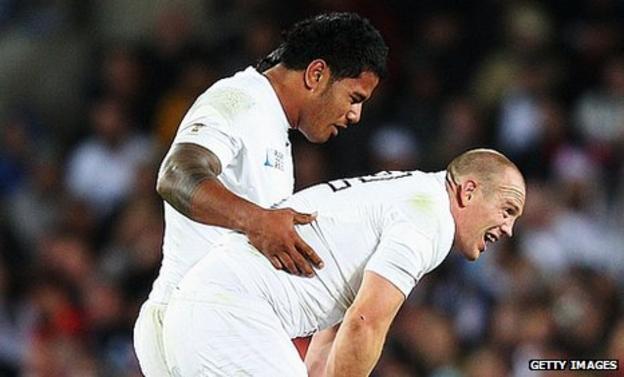 The Rugby Players' Association (RPA) has pleaded that England squad members returning from the World Cup are not made into scapegoats.
England were knocked out in the last eight by France after a poor campaign blighted by off-field scandals.
"Our fundamental concern is that we don't make scapegoats of the players or hang individuals out to dry," said RPA chief executive Damian Hopley.
"Especially in the current clamour for bloodletting across the game."
The RPA is asking England players for a "full and frank" assessment of events in New Zealand as part of an overall review of the tournament by the Professional Game Board (PGB).
The negative headlines began early in the competition when a group of players, including acting captain Mike Tindall, were photographed enjoying a late night drinking in a bar in Queenstown.
After the group stage, England manager Martin Johnson reprimanded back-rower James Haskell, hooker Dylan Hartley and wing Chris Ashton after a female member of staff in their Dunedin hotel complained of being teased with lewd comments.
Centre Manu Tuilagi was fined £4,800 by the International Rugby Board for wearing an unapproved mouthguard carrying the name of a sponsor.
And the following week, the same player was warned by police and fined a further £3,000 for jumping from a ferry in Auckland a day after the defeat to France.
Speaking after the hotel affair, former England centre Jeremy Guscott said some England players had shown a "lack of respect" and that their behaviour was "beyond belief".
While accepting that mistakes had been made, the RPA was deeply critical of the press coverage of the incidents.
"With regard to the off field incidents that have been widely reported, there has been significant misinformation fed into the press that has compromised some of the players, and this is considerably harmful in undermining the players' positions," said Hopley.
"Indeed the very public outpouring of disapproval heaped on these players over the past month is disproportionate to the actual events that happened.
"The RPA are here to support the players. That doesn't mean we condone any inappropriate behaviour but it means we listen to the players first, we work out what was wrong and what was embellished.
"If any player has made a mistake we trust them to hold their hand up and accept full responsibility for their actions. It's imperative that all stakeholders work together to make sure mistakes aren't repeated.
"This PGB review is all about identifying collective responsibility and rebuilding trust and confidence in our players, the England team and the RFU. Everyone must be accountable for their actions."