Rugby World Cup 2011: News round-up
Last updated on .From the section Rugby Union
A round-up of the latest news, views and gossip from the Rugby World Cup in New Zealand.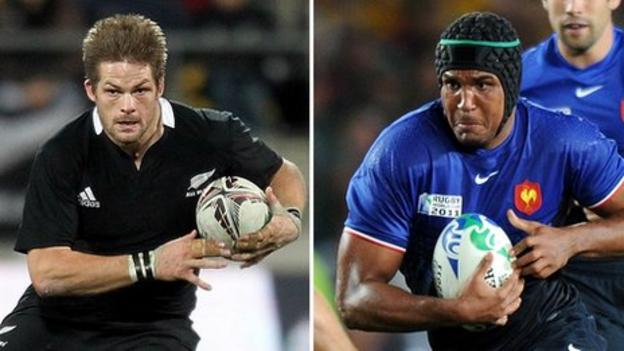 The Kiwi media are getting in their retaliation early in the build-up to Sunday's World Cup final against France.
The New Zealand Herald devoted the front page of its sports section to two articles, one entitled "A History of Gallic Brutality" highlighting examples of French foul play dating back to the 1960s, and the other "Beware the filth of the French", a column by ex-All Blacks captain Wayne "Buck" Shelford.
"Beware French skulduggery - that's my warning to the All Blacks," said Shelford, who played in the infamous "Battle of Nantes" in 1986, a brutal encounter where he suffered a torn scrotum in a match France won 16-3.
"They have resorted to some filth in past World Cups, including eye gouging. They certainly did it in 1999, and there was probably a bit going on in 2007 as well. France are on a face-saving mission in this final and desperate times bring out desperate measures."
But France prop Nicolas Mas replied: "I think they're trying to put us under pressure. The All Blacks are no angels, either. The Australians all came off with bloody noses. I don't think I have dangerous antecedents. I have never been shown the red card ... although there's still Sunday."
France's defence coach Dave Ellis said: "The dark days have long gone. With the quality of the referees and videos and things like that and the suspensions over the last few years. Everybody thinks that the articles that come out like that are a little bit of a joke. It's just of no consequence to rugby today ... I suppose we could put together a 15 of some very unclean All Black players. What's the point?"
All Blacks coach Graham Henry insists he will not be making any tub-thumping locker room speeches to his players before the final.
"Sunday night before they run out on the field is their time, it has to be their time," he said. "They've got to get their own minds right and settled and on the job. People talking to them at that time is an absolute waste of time, in fact it's a distraction.
"Words will be said today [Friday] and words will be said tomorrow [Saturday]. I personally don't believe it's the right time to talk to teams, just before they play."
In the build-up to the final (kick-off is at 2100 local time), scrum-half Andy Ellis says the All Blacks backs may go for a coffee and play a game of cards. Some players will walk the streets to soak in the atmosphere around the match while others hide from it, staying in their hotel rooms listening to music or sleeping.
All Blacks lock Sam Whitelock has a dressing room-routine of throwing a ball up above his head three or four times, a ritual he's followed since childhood, while scrum-half Piri Weepu always hangs his jersey where he can see it and then puts on his headphones.
Full-back Israel Dagg says: "I like to listen to music in the hotel. I always wear my headphones and jam me some sounds. I lie there on my bed and look out the window and kinda pinch myself. I can't believe it's here and I try to pinch myself and get ready."
Winger Cory Jane prefers sleep. "The games are getting later and later so I sleep in late, have a late breakfast or lunch. I'm pretty relaxed. "There are a lot of guys who lose the plot, guys in the team who really like to focus ... like Israel Dagg. He has music on and you just can't talk to him."
On his musical tastes, Jane says: "I just mix it up a little bit. I know a few of the boys like hard rock but I don't listen to that. If a good song comes on, it could be a Britney Spears song but if it feels right in the minute I might play that and just enjoy it."
The rugby World Cup final weekend is expected to generate about NZ$79.2m (£39.7m, US$62.8m) as a result of its direct economic impact within Auckland, according to a report. An earlier report conducted by the Centre for International Business of Sport (CIBS) at Coventry University in the UK, estimated the tournament as a whole would pump US$491m (£310.9m) into the Kiwi economy. New Zealand spent some NZ$550m (£275.8m) on upgrading venues for the 2011 event and about NZ$310m (£155.4m) on licensing and tournament costs. They targeted NZ$268.5m (£134.6m) in ticket sales, which they exceeded before the third-place play-off.
French supporters in Paris are being invited to watch Sunday's final on a giant, 92m square screen at the Stade de France. Entrance to the stadium will be free, and doors will open at 0900 local time, an hour before kick-off in the French capital.
International Olympic Committee president Jacques Rogge says the lure of gold will eventually attract the sport's top players to the Games, with rugby sevens restored to the calendar in Brazil in 2016.
"I think this will come with time," said the former Belgian international. "I am quite sure that with the evolution we see with sevens that players will be tempted to go to the Olympic Games. "Again, it may not be that easy, because the transition is not that easy to do - it requires some different skills, but yes."