London Irish centre Shontayne Hape over England disappointment
Last updated on .From the section Rugby Union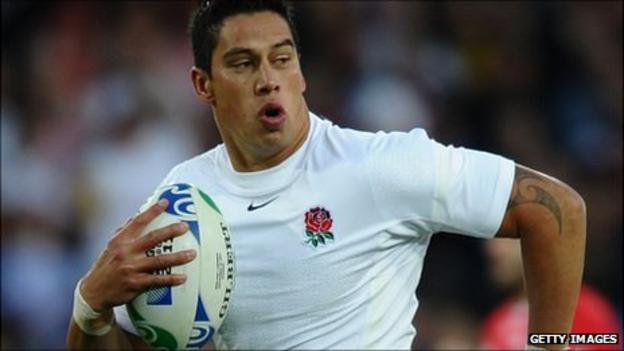 London Irish centre Shontayne Hape says he is refreshed and ready to face his former side Bath following England's dismal World Cup performance in New Zealand.
The 30-year-old played just one game in the tournament but said the intensity had taken its toll.
"It [the World Cup] does have an effect on you," he told BBC Radio Berkshire.
"The World Cup was mentally draining. But that's gone, it is in the past and I feel fresh now physically."
England went out at the quarter-final stage, beaten by eventual losing finalists France, but suffered came under fire throughout for their performances on the pitch and their behaviour off it.
Hape was critical of his team-mates in New Zealand at the time saying they had let England down and he told BBC Radio Berkshire he was happy to return to club rugby for his new side.
"[London Irish coach] Toby Booth was very kind. After we got knocked out, we were given the week off to get over jet lag and over the mental side of things," he said.
"It is refreshing for myself to come back to this group of players and to be around a new group and to be out of that environment in terms of the pressures of playing for your country and at a World Cup.
"It is also refreshing to come back into a new environment where I haven't been before.
"It's good for me, a new surrounding, new players and a new training ground so it is refreshing from that point of view. That's what's helping me get along and I'm enjoying it."
The former New Zealand rugby league international admits he struggled to appreciate the experience of a World Cup in his homeland with all the unwanted distractions but he is looking forward to facing his former side Bath on Saturday.
"I probably didn't enjoy the past six weeks as much as I wanted to, but yes, it is what it is and it happened," he said.
"Like I said, being back here is refreshing and it is time for me to focus on a new challenge and new goals and get stuck in for London Irish."