Luctonians aim to build on their good start to season
Last updated on .From the section Rugby Union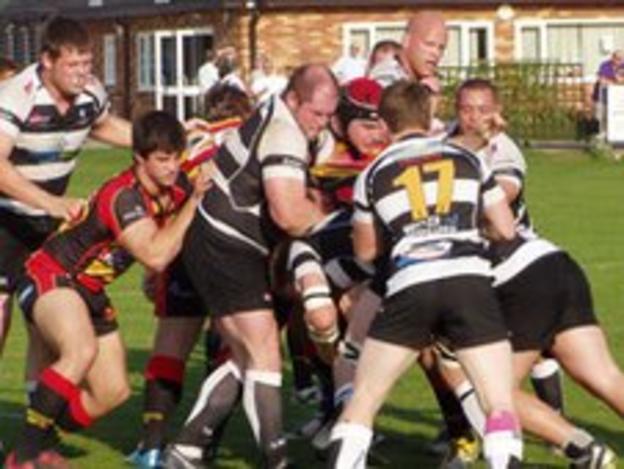 Luctonians director of rugby Alex Davidson says his side is improving but there is much more to come from them.
"We're not concerned about Stockport although we know they have got a big burly pack and not a great deal behind.
"They'll be looking to rough it up with us up front but we have dominated every side up front so far," he said.
The Herefordshire club is currently fourth in National League Two North and consolidated that position when they beat visiting Preston Grasshoppers 22-15 last time out.
Davidson says he and head coach Andy Williams are convinced the side is yet to really hit top form.
"Andy gives us a percentage [score] each week and he said we were up to about 75 this week whereas it was 65 last week," he said.
"It's quite obvious as we are starting to dominate up front and through that domination the chances do come. We are starving the opposition of ball and giving our own backs a platform to play off."
Stockport will hold good memories for the travelling Luctonians party as it was on their ground that the Herefordshire club won promotion through the play-offs at the end of the 2009-10 season.
"There are still plenty of faces in the changing room who remember and who talk fondly of Stockport," said Davidson.
"But Andy Williams has got into the habit of thinking a lot about the opposition a lot.
"A couple of weeks ago I sat down with him and said 'If we are at 75% then the main focus has got to be on us'.
"We will leave the 25% that is about Stockport to chance and we'll look at that when we get there."
There will be updates on Stockport v Luctonians on BBC Hereford and Worcester from 1400 BST on Saturday, 29 October.