Gavin Henson has reality check
By Steffan Garrero
BBC Wales Sport
Last updated on .From the section Rugby Union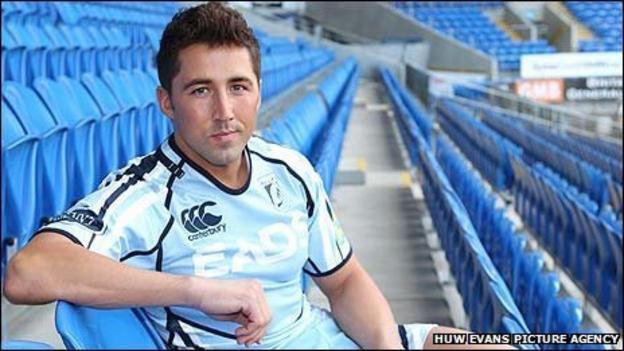 There is a smile on the face of Gavin Henson which has been missing for the past few years.
The man who sought to make rugby as popular of football, who courted the tabloid headline writers has remembered why he fell in love with sport in the first place. He is back in touch with the origin of his fame.
"At heart I'm a massive fan of Welsh Rugby and it was amazing to watch the World Cup. They were incredible and it's the best I've seen Wales play. I found it exciting as a fan."
Henson is dressed in the shirt of his new team, the Cardiff Blues, smart jeans and brown shoes. He is unseasonably tanned, not the teak-orange of the past, more a naturally sunned look.
The hair is, naturally, faultless. Some things do not change.
He cuts a relaxed figure as he mingles with the media.
"I really enjoyed watching the matches; Jamie Roberts is probably the best 12 in the world now and I'm looking forward to playing with him at the Blues… If I can break into the team…"
One of the most recognisable faces in world rugby, the 29 year-old, has his mojo back. But it would appear the self-assurance of his early career has been tempered by his life experiences.
The boy who once ran away from a Wales training session in fear of having to speak in front of his new team mates is now a man conducting interview after interview with professionalism and ease.
"I've got 'that' feeling back now, I'm happy. I get to spend more time with my kids and I'm ready to get back into action here at the Blues and try to fight my way into the team."
During a television interview in 2010 Henson ruefully mused "be careful what you wish for", when questioned about his aim of achieving front page status.
"When I decided to take a break from the game [in 2009] I wasn't very happy.
"I just wasn't feeling anything before matches, there was no excitement there for me and I didn't like that feeling.
"It was nothing to do with Ospreys, they were great, I just wasn't happy personally and I kept get niggling injuries."
There is a level of realism that has perhaps been absent in the past.
Henson has always been honest to a fault during his interviews; but he now appears far more self-aware, in touch with the public perceptions of his fading role in Welsh rugby.
"I almost snuck onto that plane to New Zealand for the World Cup," he grins. "But I didn't deserve to be there. The other guys had all been training for two years working really hard and it would have been unfair for me to get a place."
After playing for Saracens and Toulon last season Henson returned to the Welsh camp. He impressed against the Barbarians and then picked up a wrist injury against England in Cardiff. The injury meant he watched the World Cup from his sofa.
"The Welsh boys deserve all of the plaudits they're getting. It wasn't frustrating to watch this time round because they played so well. I've missed out on World Cups before [2003 and 2007] and we haven't played that well; then it was frustrating. But not this time."
Henson finds himself in a strange position following the Welsh team making the semi-finals Rugby World Cup.
The rise of Rhys Priestland, Jonathan Davies and Scott Williams leaves him as an irrelevance to many, someone no longer needed given the richness of talent available. For others he is someone who has the potential to push the team to the next level.
"For me I would love to be a part of it, but I've got a lot of work to do to get up to their level. I'll do my best to try to get back in there. I haven't played in a World Cup and I think I can still do that, but at the moment I'm on trial here at the Blues."
His critics will argue that vanity and self-image will always prove his downfall. They will cite his willingness to plunge into the world of reality TV as evidence of an egotist. Someone who can never be a team player.
"I've learnt from my TV experiences." That is his response when questioned about his apparent new-found maturity. "Previously it was just rugby, rugby, rugby with me. Maybe the balance is better? Being a Dad has made me grow up too and hopefully its something you'll see out on the rugby pitch."