RFU chief Martyn Thomas has to go, says Geoff Cooke
Last updated on .From the section Rugby Union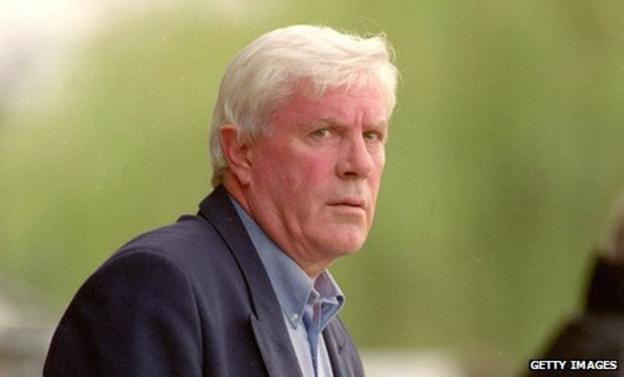 Former England manager Geoff Cooke has called on the Rugby Football Union to end Martyn Thomas's reign as acting chief executive.
The RFU board meet on Wednesday when Thomas's future could be decided.
"I have always found his management style very difficult and I wouldn't be sorry to see him go," Cooke told BBC Radio 5 live's Sportsweek.
"His management style has been too autocratic and confrontational. He should hold his hands up."
It has been reported that if chairman Paul Murphy fails to persuade the RFU directors to remove Thomas from his position, 130 of the clubs that make up the organisation's membership are ready to call a special general meeting on the issue.
Cooke, who managed England between 1987 and 1994, believes that the RFU needs overhauling, but does not have faith that the reviews announced in the wake of England's miserable World Cup campaign will deliver the required change.
"It is desperately sad really for all of us, especially those who have been involved with the national team," he added.
"The whole structure is too unwieldy. The number of inquiries and commissions we have had trying to produce a new structure, but it is the old fact that turkeys just won't vote for Christmas.
"Every proposal to streamline the organisation has run into this brick wall."
The future of team manager Martin Johnson is one of those that is being considered, but Cooke insists the former Leicester forward could still be the best man to take the England team forward despite their quarter-final exit in the World Cup.
"Unless you have a very clear picture of someone better to do the job you have to be very careful about making that sort of change at the head of the coaching organisation of the national team," he said.
"I don't think the rest of the coaches will survive, but Martin could survive certainly.
"I think he has been poorly served by some of the coaches and some of the players."