Steve Diamond demands Sale Sharks set-piece improvement
Last updated on .From the section Rugby Union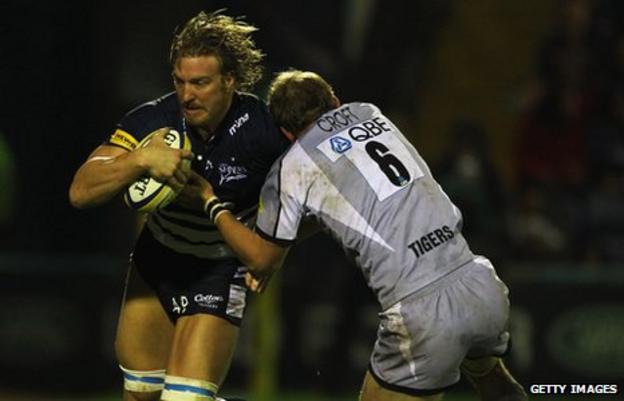 Sale director of sport Steve Diamond has demanded that the Sharks forwards improve their recent performances at set-pieces.
"Set-piece let us down. They scored from two driving mauls five metres out," he told BBC Radio Manchester.
"Our scrum didn't look very stable for most of the game so we've got a lot to work on."
Sale went into half-time leading 13-3, but Leicester scored 31 unanswered points in the second to secure a bonus-point win.
Scottish forward duo Alasdair Dickinson and Fraser McKenzie were late withdrawals from the Sharks first team on the day of the game, but Diamond says that cannot be an excuse.
"It was always going to be affected by that," he added
"But we've got paid professionals here who come in to do a job and we can't make no excuses for that.
"It wasn't any refereeing decisions we were unhappy with. It was just a case that we were bullied up front."
Despite the loss Sale remain third in the league, but now have all of their players that were at the Rugby World Cup back following Tasesa Lavea's return.
With most Premiership squads now back to their full complement following the World Cup, the former Sale hooker believes it gives the squad some perspective of where they are in their development.
"I think everyone inside the club knows where we are at," Diamond stated.
"We've had a good start. We got taught a lesson today and that's how you learn, and we'll go away and lick our wounds and come back.
"In the second half we've shown our Jekyll and Hyde character really and that's what I want to eradicate.
"We need consistency to be a top side and we haven't been."