Imanol Harinordoquy claims Marc Lievremont was 'lost' at World Cup
Last updated on .From the section Rugby Union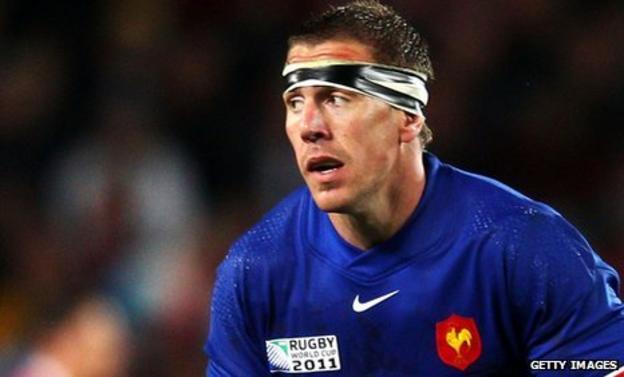 Imanol Harinordoquy says the French team ignored coach Marc Lievremont at the World Cup because he was "lost".
The World Cup runners-up came in for criticism after some poor performances in the pool stages, losing to Tonga and New Zealand before reaching the final.
Lievremont called some of his squad "spoiled brats" after they went against his instructions not to celebrate their semi-final victory over 14-man Wales.
"He was lost, I will not miss him," said number eight Harinordoquy.
"After the defeat against Tonga I did not attach too much importance to what Marc said."
France won their first two pool games against Japan and Canada but were thrashed beaten 37-17 by the All Blacks before losing 19-14 to underdogs Tonga.
However, Les Bleus defeated England 19-12 in the quarter-finals before edging past Wales 9-8 in the last four.
Lievremont, who was replaced as France coach by former Sale boss Philippe Saint-Andre after the 8-7 defeat by New Zealand in the final, later explained that his words following the victory over Wales were meant affectionately.
However, Harinordoquy remained unimpressed.
"It was our adventure. It was meant to be the nice experience of 30 men," the Biarritz forward told the French rugby bi-weekly Midi Olympique.
"We had to free ourselves from his supervision. He cast the stone at us too often. When something goes wrong, we're all in the same boat. There are no good or bad guys."
Despite the problems within the team, France's World Cup campaign came close to ending in victory.
Captain Thierry Dusautoir's try with half an hour remaining set up a nerve-shredding finale at Eden Park but Francois Trinh-Duc missed a long-range penalty and the All Blacks held on for victory.
Harinordoquy felt that the World Cup final referee, South African Craig Joubert, had some part to blame, missing several indiscretions by New Zealand captain Richie McCaw.
"He was only looking at us," said Harinordoquy. "He [McCaw] played the whole match in our camp. He did a lot of [bad] things and nobody told him anything.
"Three minutes from the end of the game, I saw him dive on the side of a ruck and he stayed there for ages."