London Irish chief executive Andy Martin keen on overseas fixture
Last updated on .From the section Rugby Union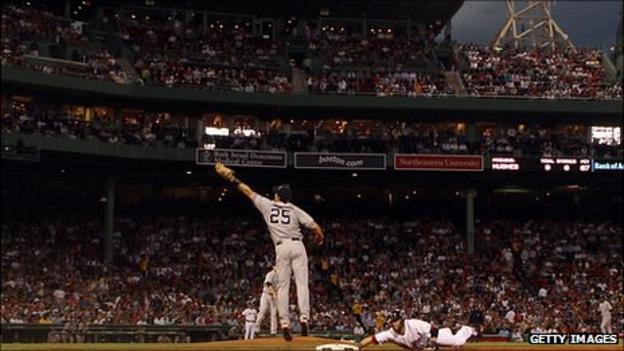 London Irish say they are considering playing a match overseas in the next few years, with American city Boston mentioned as a potential venue.
The Exiles would not be the first side to take a match abroad, with Saracens, Wasps and Harlequins having done so.
But Irish would be the first club to take a fixture to America.
"It would be massive news over there and a great coup for the club to be involved in," Exiles chief executive Andy Martin told BBC Radio Berkshire.
Martin added: "You can imagine the scene. Fenway Park in Boston full of Irish people, hopefully with some of the fans from here going across to watch us playing an Italian side in the Heineken Cup."
Exiles coach Toby Booth also said he would welcome the idea, adding that he believed the opportunity for clubs to grow their brand overseas would eventually prove too tempting to ignore.
Saracens will play a Heineken Cup game in Cape Town later this season while Wasps played Harlequins in Abu Dhabi last season in an LV= Cup match.
But Martin warned that the idea of Irish playing Boston was still in its infancy and stressed the views of supporters would be taken into account.
"If we did do something, and let me reiterate we are just playing with ideas, we would have to make sure they [the supporters] were on board," he said.
"There are more supporters for this club around the world than any other club in England.
"If we are going to grow this club and be innovative like we are trying to be - and [if] there is an audience for us of 40,000 or 50,000 in Boston, then it would be worth trying to look at it and do something with."
Martin added that a sponsored pre-season training camp and friendly match in Boston would be used to initially "test the water" and if that proved successful an official Heineken Cup game could follow.
The Exiles chief also said that the NFL model of bringing an American football fixture to Wembley every year had proved inspirational.
He added: "Ourselves and Saracens are pushing the boundaries on this sort of stuff and we are sharing ideas. We want to make sure we get it right."