Ex-All Blacks coach Graham Henry wants job in Europe
Last updated on .From the section Rugby Union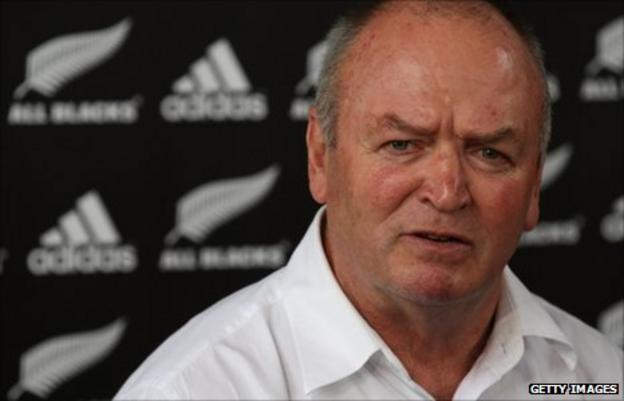 World Cup-winning coach Graham Henry has admitted he is interested in coaching in Europe after stepping down as New Zealand boss on Monday.
Henry, 65, saw his side narrowly in the World Cup final last month to claim their second title.
"I would like to spend a little bit of time assisting, if there is a demand from a club or from a union in Europe," Henry told BBC Radio 5 live.
"It would be stimulating and challenging and a new focus."
He added: "If you are going to get involved with a club in Europe, you can only do one, and I haven't got a lot of time due to things I have to do in New Zealand."
The former Wales coach, who won 88 of his 103 Tests as All Blacks coach during his eight-year reign, is also in talks to stay on as a "coach mentor" with the New Zealand Rugby Union.
He admitted the right job and the salary would be crucial factors in deciding his future but last week, telling the Daily Telegraph he would be interested in working with the Rugby Football Union (RFU).
"Yes, I would talk to the RFU, sure," he said. "I would love to work in coach development, player development, environmental development, cultural development of a group of people."
Henry also backed England coach Martin Johnson, whose contract expires at the end of the month, to remain in the job following a disappointing World Cup both on and off the field.
England lost to France in the quarter-final in New Zealand and the players were criticised for their behaviour away from the pitch.
"I know Martin reasonably well as he was captain of the Lions in 2001 and he was a fabulous leader. I'd imagine he's still the same character, people don't change," he said.
"Often we shoot our coaches because they haven't got the results but they remain the best people for the job. If Martin is the best person for the job he should be reappointed."