Bryan Redpath to hold talks with Eliota Fuimaono-Sapolu
Last updated on .From the section Rugby Union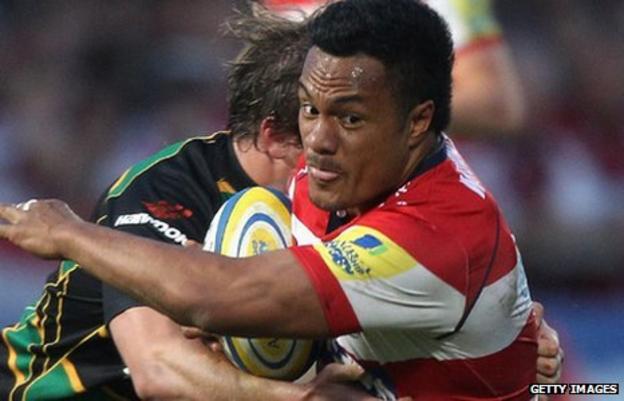 Gloucester coach Bryan Redpath is to meet with Eliota Fuimaono-Sapolu following his latest rant on Twitter.
Last month he was hit with a six-month suspended ban for remarks he made during the World Cup.
"We'll meet today [Wednesday] and put things to bed quicker than normal," Redpath told BBC Gloucestershire.
"We have to get on with our day-to-day jobs and concentrate on the game. I don't see Eli getting distracted at all. He does train well and play well but we need to move on from it, to have some normality in our lives.
"I want to coach and I hope the players want to play rugby and get on with it.
"The majority of conversations seem to be about external factors not necessarily about the game.
"I want to talk about Olly's [Morgan] performance, Freddie's [Burns] performance for 60 minutes, Tinds [Mike Tindall] coming on for 20 and looking enthusiastic but sadly that's the way the game has gone."
Redpath revealed he was aware of further tweets sent by Fuimaono-Sapolu which hinted he could be set to leave Gloucester when his contract finishes at the end of the season.
In response to a message sent by fellow Samoan Census Johnston which said "Not looking forward to another cold winter in Europe", Fuimaono-Sapolu replied "last winter for me. thank god".
"I've been informed about that tweet this morning," said Redpath. "My discussions with players will push on and we'll sit down with agents and players to discuss who wants to stay, who wants to go, who wants to have other options in their life.
"That will solve itself over the next four to six weeks for many of them - Eli will be one of them.
"If that is what his tweet said then that will come through in the discussion."